This new and improved gluten free Peach Crisp was a lot of fun to shoot and even more fun to eat. I'm loving (rather than dreading) taking pictures ever since I took the Food and Light Photography Workshop.
Why another Peach Crisp? Well, a number of you had left comments on my "old" Peach Crisp recipe, mentioning that the topping seemed wet. So, I went back and tried the recipe myself. I wrote that recipe 2 years ago and I guess my tastes have changed –and hopefully my cooking skills have improved. I like this crisp much better than the old one.
What's different? Well, I reduced the amount of oil in the topping, cut out the baking soda and reduced the salt by half –now it's more to my liking. When I made the old one last week, I took it to a baseball potluck (we've had a ton of those this year!). I served it with ice cream to mask the salt, though nobody seemed to notice it was too salty (or gluten free for that matter) people were psyched to have a warm dessert with fresh baked fruit.
Anyway, to those of you who made my overly salty Peach Crisp with the runny topping and did not find it to your liking –my apologies, and I hope you enjoy this one, now that we are at the height of peach season.
Grain-Free Peach Crisp
Print
Email
Pin Recipe
Instructions
Place peach slices in a

large bowl

, sprinkle with lemon juice, vanilla, and arrowroot; toss to incorporate all ingredients

In a , combine almond flour, salt, grapeseed oil and agave for topping

Crumble topping over peaches

Bake covered at 350°F for 45 minutes, until peach juice is bubbling

Remove cover and bake a few more minutes if topping is not yet browned

Serve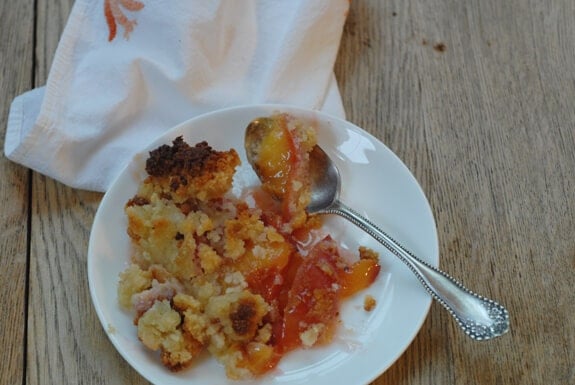 As some of you can imagine, and some of you have even mentioned to me (ahem Lillian!) I am a fairly meticulous person, and very detailed. I usually test a recipe 5 or 10 times before it is posted on this site and spend weeks developing various dishes that my lucky (poor) family has to eat (over and over again).
When it comes to my recipe development for books and magazines, imagine tripling the above process. So, it's best to look at this website as a developmental piece. With all of this cooking, my cooking has (hopefully) improved. On that note, I encourage you to use the more recent recipes on the site, though some of you may have some old favorites that work out quite well.
One thing I have learned from my readers is that I like salt
–a little too much, and more than the average person. So I've definitely cut down on the salt in my recipes over the last year.
Have you noticed that anything else has changed? Is there anything that bugs you? Do you have any favorite recipes from the archives that you make over and over again? Leave a comment and let us all know!