Learn how to make gomasio at home with this easy 2-ingredient recipe! I discovered gomasio, a sesame salt condiment in 1994, during my yoga teacher's training. In this three year program we studied Ayurveda, cooking, and restorative movement. I consider this training the foundation of my knowledge in alternative healing, and it is where I first began to take healthy cooking seriously.
I learned so much from this program. One of my favorite simple takeaways is this incredible gomasio recipe. It's delicious and healthy, yet incredibly easy to make! Although I learned to make it while studying Ayurveda, this sesame salt condiment actually originates from macrobiotic cooking. This makes sense since one of my teachers was friendly with Michio Kushi, who wrote a number of books on macrobiotics.
Gomasio is now one of my favorite paleo condiments. Sesame seeds, a healthy food, high in protein and fiber are also loaded with calcium. You can buy gomasio at the store but it taste nothing like the homemade version, and since it's not as fresh, does not contain as many nutrients.
How to Make Gomasio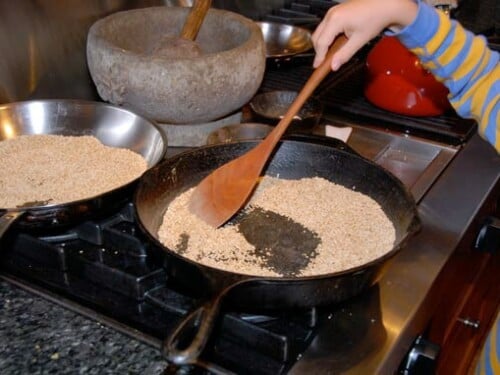 Print
Email
Pin Recipe
Instructions
Roast 10 minutes, stirring constantly until seeds turn golden brown

Transfer to a glass container

Sprinkle over kale, broccoli, or other greens

Store in refrigerator for up to 3 weeks
My boys love eating, as well as preparing, this sesame seed condiment. I love that this gomasio recipe is easy enough for a child to make. In the photo above, my older son is stirring up a double batch for the family. Below, we have transferred the toasted sesame seeds to a suribachi to take turns grinding our gomasio. A suribachi, which is similar to a mortar and pestle is a handy tool for grinding your own gluten-free condiments and paleo spice blends from scratch!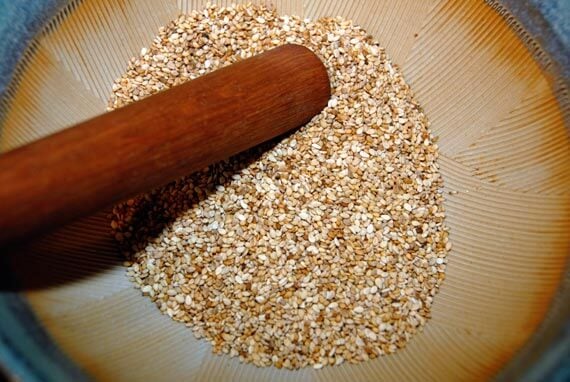 Here are some of my other paleo condiment recipes: