For some reason, I can't get out of my winter funk. We've had a few beautiful sunny days, yet I still feel as though I need to go into a small cave and hibernate. I feel such a stunting of my creativity during these dark days (we've had a lot more dreary ones than sunny) and a complete lack of drive. I think part of it is all of the illnesses that my family has been through during the past month and our time in familial "retrograde" –we seem to be emerging slowly (emphasis on the slowly more than the emerging). Life these days just feels like walking through glue.
To give myself some energy, I've been continuing my protein streak and also trying out variations that the boys might eat. Tonight I made these delicious gluten free fish sticks and served them with steamed kale on the side. The fish sticks are very kid friendly, as is just about anything fried. Given that they're rather high in protein, I find them adult friendly too, and quite tasty.
Fish Sticks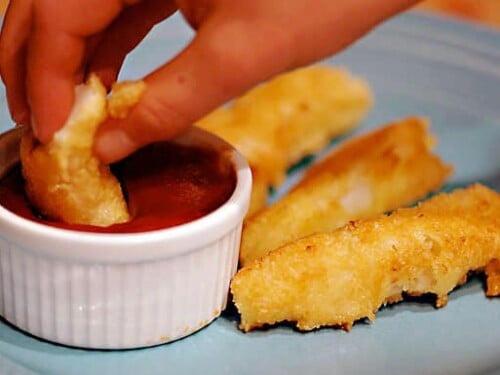 Print
Email
Pin Recipe
Instructions
Rinse fish fillets in cold water and set on a plate

Cut fish into 1 inch by 5 inch pieces, following the lines of the fillets and removing any bones

Place eggs in one dish and flour and salt in another

Dip fish sticks in egg, then flour; reserve to a plate

Heat 3 tablespoons oil in a large skillet over medium-high heat

Place half of the fish sticks in the pan, leaving enough room around them so that they aren't crowded

Cook for a few minutes on each side, until well browned, then remove fish sticks to a plate lined with a

paper towel

Add 3 tablespoons olive to pan and fry remaining batch of fish sticks

Serve with ketchup
Equipment
Make sure to serve this heavier dish with some steamed veggies (broccoli or kale work well) or a big salad to balance out the meal.