I've been laying low since Thanksgiving, cleaning my house with abandon, giving away everything the boys and I don't use. That said, in between sorting stuff and testing desserts for the upcoming holidays, I've been relying on some staple seasonal vegetable dishes to take me through the dark season.
This is an easy, family favorite. Just steam the kale and sprinkle with gomasio.
Kale with Gomasio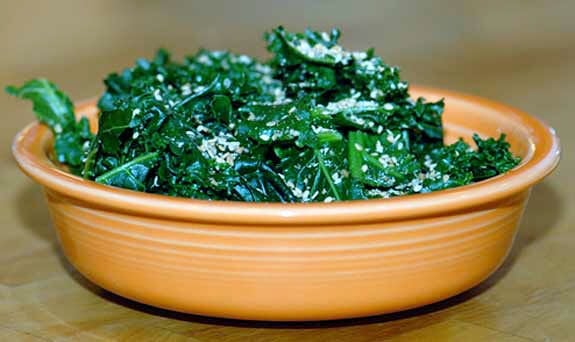 Print
Email
Pin Recipe
Rinse the kale, slice into ribbons and steam over medium heat for 3-5 minutes, until bright green; uncover after cooking and leave in pot to maintain warmth

Place sesame seeds in a

9 inch cast iron skillet

over medium heat

Roast for 10 minutes, stirring constantly with a

wooden spoon

until seeds turn golden brown

Place sesame seeds and salt in a

suribachi

or

mortar and pestle

and grind them into a coarse meal

When cooled, transfer to a glass container

Place kale in a serving dish and sprinkle with

gomasio
Prep Time 10 mins
Cook Time 13 mins
Total Time 23 mins
This savory gluten-free vegetable dish is perfect for a cozy winter meal.