This recipe for vegan raspberry streusel bars is based on one by Brittany at Real Sustenance. Ever since she posted her delicious looking recipe last year during the holidays I've been wanting to make it.
I adjusted her recipe by removing the sweetener from the crust and by increasing the amount of high protein items in the streusel so the topping would be a bit less sweet as well. I hope you like these gluten free dessert bars as much as we did.
Raspberry Streusel Bars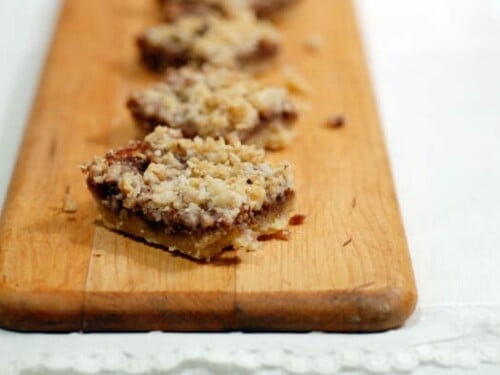 Print
Email
Pin Recipe
Instructions
Pulse together almond flour, salt, coconut oil, vanilla, and water in a

food processor

until dough forms a ball

Bake at 350°F for 12 minutes

Pulse oil, almond flour, xylitol and salt together in

food processor

until creamy

Briefly pulse in walnuts and coconut, so they are left coarse, not pulverized

Set streusel aside

Spread raspberry fruit spread over warm crust

Sprinkle streusel topping over raspberry fruit spread

Bake at 350°F for 15 minutes

Cool for 10 minutes, then refrigerate for 2 hours to set up

Serve
Cool Time and Fridge Time
2

hours
10

minutes
Total Time
2

hours
47

minutes
Recently I was fortunate enough to meet a wonderful couple, Pepi Gramshammer and his lovely wife Sheika. Pepi is one of the founders of Vail –"Pepi's Face" is a run on the mountain; Sheika, his awesome wife, is the genius behind many of their business ventures. They are the quintessential close knit hardworking European couple.
In any event, Sheika asked me what I had done earlier that day, and I told her that I had spent the afternoon making streusel. She had no clue what I was talking about which I thought was funny since she is from Austria and German is her native language. Finally, I got my point across through various descriptions and she said, "Oh! STREUSEL!" Rolling her "r's" in that wonderful way that only she can.
Whatever your accent, I hope you enjoy these vegan Raspberry Streusel Bars!