Looking for a quick and easy gluten free chocolate cake? This one is so simple that you can make it one pot and it doesn't need a drop of frosting. I'm hooked on this thick, fudgey, yet cakey treat. I made it a couple of weeks ago during our Super Bowl party and it was gobbled up in mere minutes by our boisterous gang of guests.
If you are not in the mood for white chocolate, or wish to make a more Paleo/Primal treat, replace the white chocolate chips with dark chocolate chips. Replacing the white chocolate with dark chocolate turns this dessert into a healthy treat with high fat coconut milk (great fat to anchor your blood sugar levels) as well as almond flour and eggs (full of good proteins that also anchor blood sugar levels and keep you satiated).
The recipe below is actually based on a brownie recipe by the lovely Marinka. When I posted my Double Chocolate Walnut Brownies, she left a comment with a link to her brownies, which I then in turn based this cake upon.
Easy Black and White Cake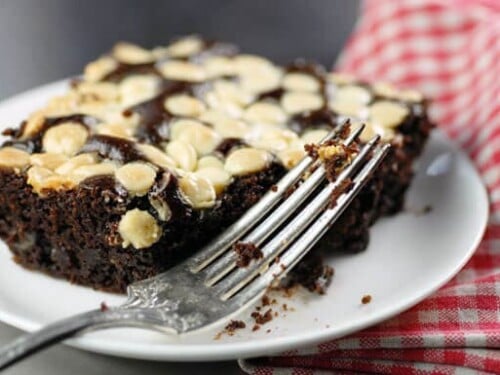 Print
Email
Pin Recipe
Instructions
Melt dark chocolate chips and coconut milk in a small

saucepan

over very low heat

When chocolate is completely melted, remove saucepan from heat

Stir eggs into saucepan containing chocolate/coconut milk mixture

Next, stir in almond flour, salt and baking soda

Fold in ½ cup of the white chocolate chips

Pour batter into baking dish, then sprinkle remaining white chocolate chips over batter

Bake at 350°F for 20-25 minutes

Cool and serve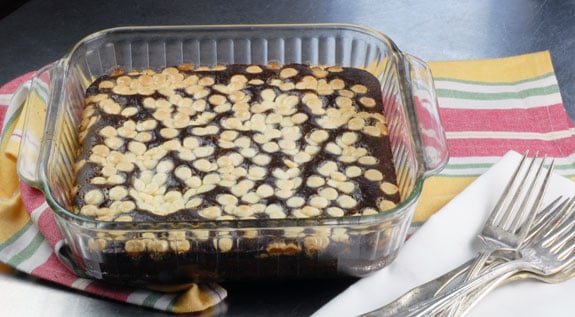 In terms of substitution questions, feel free to try this replacing the eggs with some other ingredient of your choice. If you replace the eggs, or any other ingredient in this recipe, for that matter, please leave a comment and let us know how it goes! It took me quite a few tries to get this recipe just so, therefore I'm really not sure how it would work with various adaptations –the only way to find out is to give it the old college try.