These fantastically healthy dark chocolate truffles are full of antioxidant rich cacao powder and sweetened with honey and just a bit of vanilla stevia, which leaves a lot of room for the other flavors to come through.
Although I experimented and made these truffles with vanilla and raspberry, I ended up loving orange the best. I think orange zest and dark chocolate are a wonderful flavor combination.
Dark Chocolate Truffles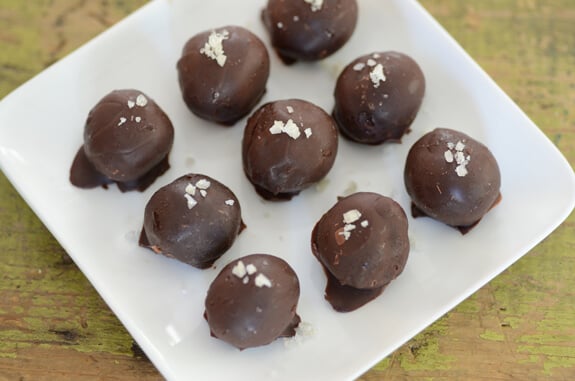 Print
Email
Pin Recipe
In a

food processor

combine coconut oil and coconut butter

Pulse in honey, stevia, and orange zest

Pulse in cocoa powder

Refrigerate for 30 minutes, or until very firm

Use a 1 teaspoon sized scoop to measure out truffles

Roll into a ball and place on a

parchment paper

lined

baking sheet

In a

saucepan

over very low heat, make shell for truffles

Melt the cacao butter, then stir in cacao powder, honey and stevia

Using a toothpick, dip truffles in shell one by one

Chill for one hour

Top with

coarse sea salt

if desired, then serve
Prep Time 10 mins
Fridge Time 30 minutes
Cook Time 10 mins
Total Time 50 mins
This Dark Chocolate Truffle recipe is based on one from Against All Grain. While that recipe is delicious I have made a number of changes in order to cut down on the prep time and simplify the recipe quite a bit. I've also added stevia to this Paleo candy recipe in order to reduce the amount of honey and make it lower in carbohydrates.
For more healthy homemade candy recipes that are super easy to make, check out these goodies: