If you like shrimp, try this paleo recipe for Curried Shrimp. The larger than life flavors meld together in this succulent and healthy curry dish.

Curried Shrimp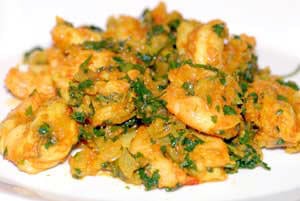 Print
Email
Pin Recipe
4 tablespoons olive oil
4 cloves garlic
1 medium onion, chopped
½ cup tomatoes, pureed
2 teaspoons ginger, minced
½ teaspoon cumin
½ teaspoon coriander
½ teaspoon ground turmeric
1 bunch cilantro, finely chopped
1 pound large shrimp, peeled
3 tablespoons lime juice, freshly squeezed
In a large

saucepan

, heat oil

Sauté garlic and onion over low heat until tender, about 10-15 minutes

Add tomatoes, ginger, cumin, coriander and turmeric; simmer for 5 minutes

Place shrimp in simmering sauce and cook for 10 minutes until cooked through

Stir in cilantro

Remove from heat, add lime juice

Serve
Prep Time 20 mins
Cook Time 25 mins
Total Time 45 mins
Adapted from Loren Cordain's
The Paleo Diet
, a favorite book of mine in my quest to eat real, unprocessed food.