This easy Coconut Macaroons recipe is made with 5 ingredients. All you need is shredded coconut, egg whites, honey, vanilla, and salt. Macaroons are gluten-free, dairy-free, kosher for Passover, and best of all my boys love them!
These gluten-free coconut macaroons are an ideal Passover dessert because they do not contain chametz, or leavened grain products. According to my 9 year old son, who is studying the Torah in school, we refrain from eating chametz because, "when leaving Egypt the Jews did not even have enough time to let the bread rise."
Ironically, after a bit of historical research, I found that macaroons are actually a Christian food. Macaroons originated in an Italian monastery around 1792. The name comes from the Italian word for paste, maccarone, which refers to almond paste. Macaroni means flour paste.1
Coconut Macaroons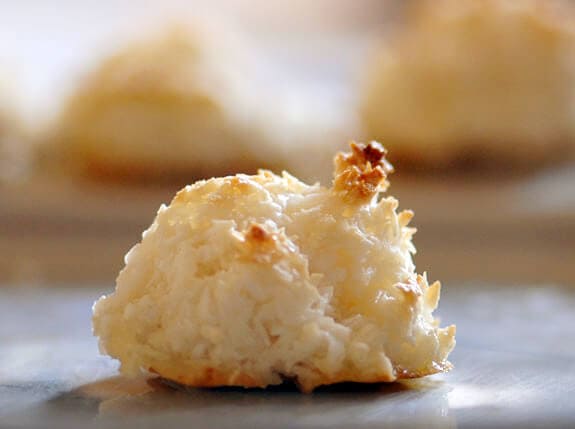 Print
Email
Pin Recipe
Using a

hand blender

, whisk egg whites and salt to stiff peaks

Place coconut in a

medium bowl

Stir egg white mixture into coconut

Fold in honey and vanilla

Using your hand, firmly pack batter into scoop to level

Release batter onto a

parchment paper

lined

baking sheet

Pinch each macaroon at the top, like a kiss

Bake at 350°F for 11-13 minutes, until lightly browned

Cool for 1 hour

Serve
Prep Time 10 mins
Cook Time 11 mins
Total Time 21 mins
You can still have macaroons if you follow an egg-free diet! Here are some of my egg-free dessert recipes, including macaroons.
---
Buy My Books!
---