Frosting is one of my favorite foods; in fact, I consider it an actual food group. After all, what is a cupcake without frosting? It's nothing!
Lately I have been stymied when it comes to the frosting creation process. Yes, I have my delicious Vegan Chocolate Frosting recipe, however, I have been lacking in the white frosting department. For me this has presented hardship because chocolate frosting just doesn't work with Carrot Cake and lemon cake. Besides, who wants to use just one frosting recipe on top of all of their baked delicacies?!
Yes, I do admit, making frosting without butter and sugar is quite a challenge. Though for me challenge is the name of the game. So lately, I have been on a conquest for white frosting.
Sixteen batches later, I have a delicious coconut frosting that my many taste testers approve of. Unfortunately, my most important taster is traveling this week, so I confess, I don't have the ultimate seal of approval. However, I think it is still good enough to share with all of you.
Coconut Cream Frosting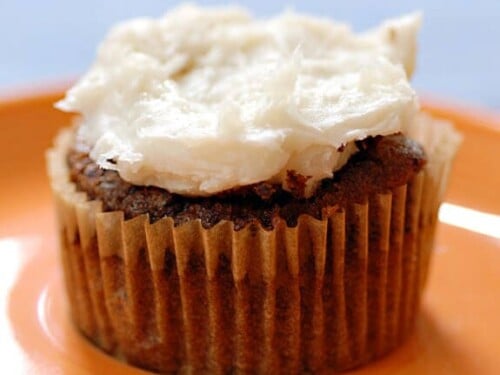 Print
Email
Pin Recipe
Instructions
In a medium saucepan, heat coconut milk, agave and salt, simmer for 10 minutes

In a

small bowl

, combine arrowroot and water to form a smooth paste

Pour arrowroot mixture into saucepan

Whisk

vigorously to combine, then bring to a boil, briefly, until shiny

Remove pot from heat and very gradually blend in coconut oil with a

hand blender

Allow pot to cool for 10 minutes

Place pot in refrigerator for 45-120 minutes, until frosting solidifies and turns white

Remove from refrigerator and blend again with a hand blender, until fluffy

Spread over cake or cupcakes
Equipment
This frosting will be great on the carrot cake which I am in the process of creating for ~M, one of my favorite readers. She finished school this month and I will post the recipe in honor of her graduation.
On another note, you may have noticed that I recently added a feature to the side bar of this site. It is a survey which polls readers as to which recipe they would like me to whip up next. Check it out and post your vote –for Chocolate Cupcakes, Mango Chicken or Candy Bars.