This scrumptious, dairy free, gluten free, vegan, super transportable snack is a power bar in the form of balls. What I love most about it though is the flavor –they taste like raw cookie dough!
This recipe came from a comment on an older post left by Karen; it is also similar to another recipe that many people mentioned on that post as their fave recipe, called Fudge Babies. Since these have just a tad sweeter than Fudge Babies, we were joking around, calling them Fudge Children, and Fudge Adolescents.
Chocolate Power Bar Balls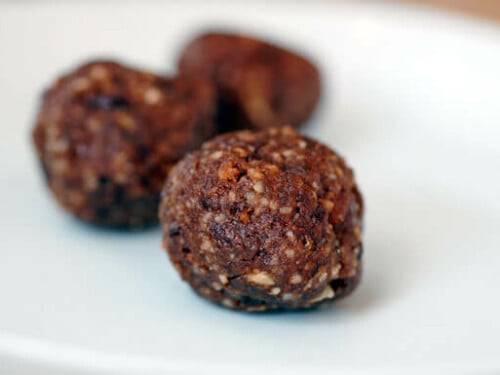 Print
Email
Pin Recipe
Instructions
Pulse on high speed until the texture of coarse gravel

Pulse in vanilla and salt (if necessary, add water so that dough forms a big ball)

Form mixture into 1-inch balls

Serve
Equipment
I don't often discuss nutrition, however, a bunch of readers have pointed out recently that just about all of the recipes on this site are not only gluten free, they are dairy free as well –like these yummy power bar balls.
If you are looking for more delicious gluten free, dairy free snacks and desserts that are quick and easy to make, check out my new book Gluten-Free Cupcakes. I am obsessed with the ease of the dairy free recipe for Flourless Chocolate Coconut Cupcakes as it has only 5 ingredients; topped with my dairy free Vegan Chocolate Frosting and you're off to the races! The book is coming out today, so those of you that pre-ordered
will find it at your doorstep. Happy baking!
Here are more yummy recipes for gluten free bites, bars and balls you might enjoy:
–Raw Chocolate Brownie Bites from Carrie at Ginger Lemon Girl
-Granola Oatmeal Cookie Bars from Kim at Cook It Allergy Free
–Power Balls by AndreAnna at Life as a Plate