I haven't had Nutella since I was a student traveling in Europe decades ago with a EuroRail pass, sleeping in youth hostels. Back then we used to eat this incredible chocolate spread for breakfast. Because I now find the real thing way too sweet for my taste, I've created my own healthy homemade Nutella.
Like everything I create, this is another easy paleo recipe with only 6 ingredients. To make it you'll need hazel nuts, cacao powder, hazelnut oil, honey, vanilla, and salt. Simply throw the ingredients in a food processor and you've got a healthy homemade version of Nutella that kids and adults love!
Chocolate Hazelnut Spread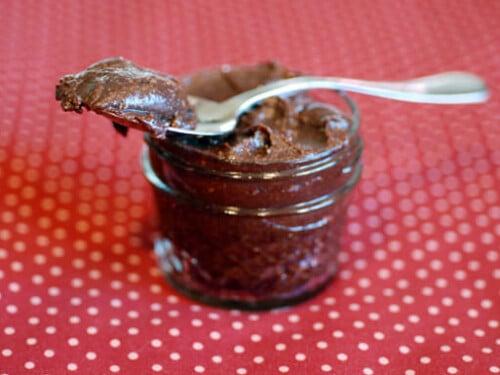 Print
Email
Pin Recipe
Instructions
Roast hazelnuts at 350°F for 8-10 minutes until they turn golden and smell fragrant

Transfer hazelnuts to a towel and rub skins off

In a

food processor

, grind hazelnuts 5 minutes until a smooth butter, scrape sides as needed

Add cacao, honey, vanilla, oil, and salt and process until well blended, about a minute

Bring to room temperature prior to serving
I decided to make my own homemade Nutella, after seeing Amy Scattergood's recipe in the Los Angeles Times. The consistency of my chocolate hazelnut spread is a bit thicker than peanut butter. If you want to thin out your spread, add more hazelnut oil. I think this treat has a very similar taste to Nutella, though find the consistency not as creamy.
Everyone in my house loved this homemade hazelnut chocolate spread and it vanished quickly. Even though it's not exactly the same thing, I like having a decadent treat and at the same time knowing exactly what's in it!
We're off to baseball practice. It's a gorgeous 70 degree day perfect for our first day of spring training in Boulder!