This recipe was adapted from one by Pam Vagnieres' in an article called Make Your Own Protein Bars that ran last year in my local newspaper The Daily Camera. These high protein, gluten free power bars are easy to make and remind me of a Lärabar, though these are super fresh since they're homemade, and they're also not quite as sweet.
My boys and their friends loved these bars and gobbled them up during spring break, when our house was boys central.
Chocolate Cranberry Power Bars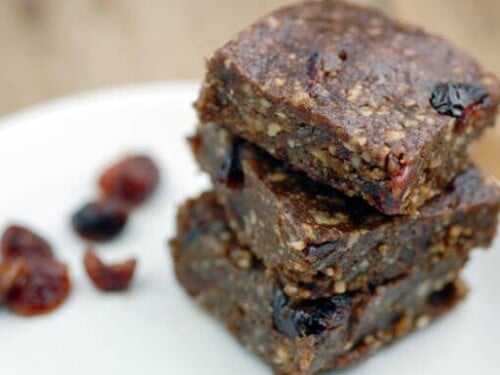 Print
Email
Pin Recipe
Instructions
Blend pecans and cacao powder in

food processor

until combined and coarsely ground

Add in dates and process until blended into dry ingredients

Process in vanilla, stevia and agave until well combined

Stir (or work in) dried cranberries with a spoon or by hand

Freeze for 1 hour, or until firm, then cut into 16 squares
If cranberries aren't your thing check out my other gluten free power bar recipes, Chocolate Espresso Power Bars, Spicy Power Bars and the crowd favorite Almond Power Bars.
For more yummy power bar recipes from other gluten free food bloggers check out:
–Sesame Snack Bars (Gluten-Free & Casein Free) from Lexie of Lexie's Kitchen
–Popeye Protein and Fruit Bars from Shirley of Gluten free Easily
–The Best Ever Gluten-Free Power Bars from Debbie of The Gluten-Free 'Dish'