So all you agave haters gather round. These gluten free chocolate chip cookies are completely free of agave, I have used yacon instead.
What is yacon? It is a perennial root, composed primarily of water and Fructooligosaccharide (FOS). These short chain sugars have a lower caloric value (as they are digested anaerobically) and high fiber content. FOS is a prebiotic that is extremely helpful with digestion.
I use yacon as my "brown sugar" or "molasses" in my recipes. For example, in my book, The Gluten-Free Almond Flour Cookbook, I use yacon in my recipes for Gingerbread Men and S'mores.
Chocolate Chip Cookies with Yacon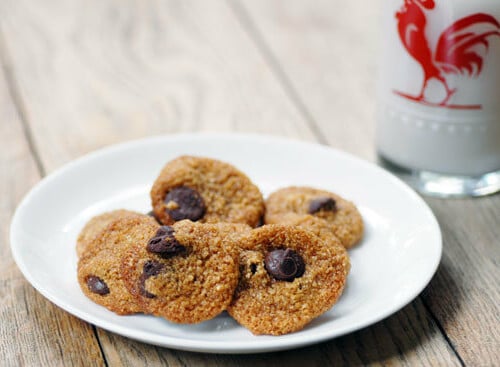 Print
Email
Pin Recipe
So, for those of you that are agave averse, what is your favorite substitution for this ingredient in my recipes? I've heard of people using everything from apple sauce and stevia to honey. If you have a formula or a favorite recipe that replaces agave with another ingredient, be sure to leave it in the comments section!
One of my favorite bloggers, Chris from Celiac Handbook is featuring me on his Facebook page this week. Chris is an amazing guy who does so much to spread awareness of celiac disease and is always selflessly promoting other bloggers in our community. He is fabulous.