With baseball back in the picture and our afternoons filled with practices I find myself looking for quick entrees that offer a lot of protein without a lot of work.  This gluten free Chipotle Lime Salmon recipe is one of those. My husband loved it, pronouncing it blog-worthy after his first bite.
Ingredients
1

lb

salmon,

cut into 4 fillets

1-2

tablespoons

olive oil

2

limes,

sliced in half

1

teaspoon

celtic sea salt

1

teaspoon

chipotle powder
Instructions
Preheat oven to 500°F

Rinse salmon, pat dry and place on a metal baking sheet

Rub each fillet with olive oil

Squeeze the juice from one-half lime onto each fillet

Sprinkle fillets with salt and chipotle, then place a half lime on top of each fillet

Turn down oven temperature to 275°F

Place salmon in oven and cook for 8-12 minutes, depending on how well done you like your fish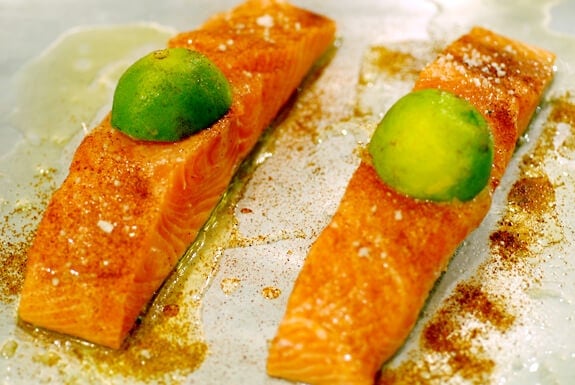 I've been very busy lately though spending as much time as possible with my boys.  Still, getting in quality time is a challenge.  We're going from the moment I meet them at school until dinner, running around to various activities such as baseball, violin and of course, grocery shopping.
I didn't think I'd become one of those over scheduled mothers, though that seems to be just what is happening.
Thankfully, we still have a good routine at bedtime with lots of chit chat about the day, reading and snuggling.  Often I think I need this time to unwind more than the boys do, though in reality, I bet it does all of us a lot of good.