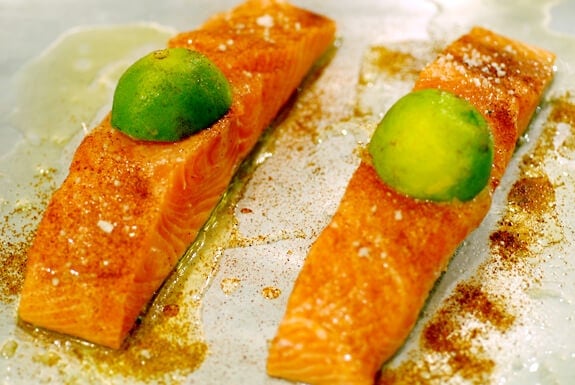 From 2009…
I feel sooo old you guys! I originally posted this recipe a decade ago in 2009! Here's what I wrote back then!
With baseball back in the picture and our afternoons filled with practices I find myself looking for quick entrees that offer a lot of protein without a lot of work. Gluten-free Chipotle Lime Salmon is one of those recipes. My husband loved it, pronouncing it blog-worthy after his first bite.

I've been very busy lately though spending as much time as possible with my boys. Still, getting in quality time is a challenge. We're going from the moment I meet them at school until dinner, running around to various activities such as baseball, violin, and of course, grocery shopping. I didn't think I'd become one of those over scheduled mothers, though that seems to be just what is happening.

Thankfully, we still have a good routine at bedtime with lots of chit chat about the day, reading and snuggling. Often I think I need this time to unwind more than the boys do, though in reality, I bet it does all of us a lot of good.
To 2019…
Now the boys are in college. When they're home visiting, I don't ask what time they'll be home at night. Sometimes I even get flipped off when I take an unwanted photo. They've grown up and I love them every bit as dearly and count myself lucky to have a wonderful family that I adore with all my heart.