Fans say my Keto Chipotle Lime Salmon is "so delicious" and "so easy" that I had to re-share this low-carb dinner recipe. Made with 5 ingredients total, they also say this unfussy recipe is perfect "for real-world cooks."
Keto Chipotle Lime Salmon Recipe
All you need to make this easy keto dinner recipe is salmon, chipotle, limes, olive oil, and salt! I use a wonderful cooking method here. I heat the oven to 500°F, then when I pop the salmon in, I lower the temperature to 275°F. The initial high temperature sears the fish and then as the temperature in the oven declines the fish cooks through resulting in a juicy salmon that is full of flavor.
Easy Keto Dinner Recipe
We like to squeeze the warm lime over Keto Chipotle Lime Salmon after it comes out of the oven and cools for a few minutes. Serve it with a keto friendly side dish like Cauliflower Rice, Low-Carb Dirty Rice, or No Potato Salad for a delightful low-carb Whole30 meal. Any of these pairings will knock your socks off.
Keto Chipotle Lime Salmon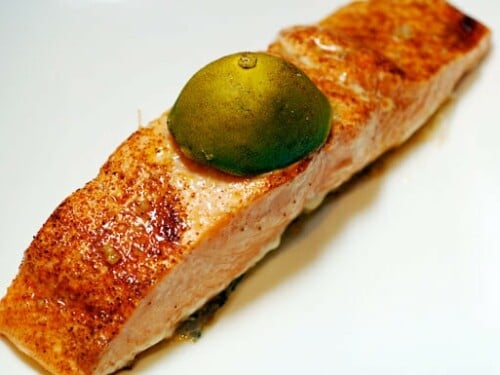 Print
Email
Pin Recipe
Instructions
Preheat oven to 500°F

Rub each fillet with olive oil

Squeeze the juice from one-half lime onto each fillet

Sprinkle fillets with salt and chipotle, then place a half lime on top of each fillet

Turn down oven temperature to 275°F

Place salmon in oven and cook for 8-15 minutes, depending on how well done you like your fish

Serve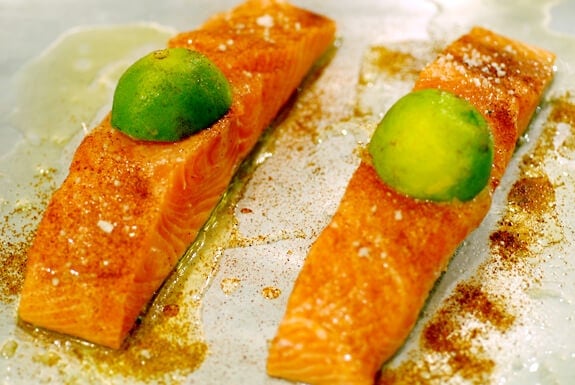 From 2009…
I feel sooo old you guys! I originally posted this recipe a decade ago in 2009! Here's what I wrote back then!
With baseball back in the picture and our afternoons filled with practices I find myself looking for quick entrees that offer a lot of protein without a lot of work. Gluten-free Chipotle Lime Salmon is one of those recipes. My husband loved it, pronouncing it blog-worthy after his first bite.

I've been very busy lately though spending as much time as possible with my boys. Still, getting in quality time is a challenge. We're going from the moment I meet them at school until dinner, running around to various activities such as baseball, violin, and of course, grocery shopping. I didn't think I'd become one of those over scheduled mothers, though that seems to be just what is happening.

Thankfully, we still have a good routine at bedtime with lots of chit chat about the day, reading and snuggling. Often I think I need this time to unwind more than the boys do, though in reality, I bet it does all of us a lot of good.
To 2019…
Now the boys are in college. When they're home visiting, I don't ask what time they'll be home at night. Sometimes I even get flipped off when I take an unwanted photo. They've grown up and I love them every bit as dearly and count myself lucky to have a wonderful family that I adore with all my heart.