Tonight's project was a gluten free chicken salad with almonds.
Even though the days of August are long and hot, the month seems to speed by every year, and this year has been no different.
Today the boys started school and my older son had his first viola lesson. He locked the viola case to keep his little brother out. When we arrived at the lesson, he realized that he had forgotten the key, leaving it at home in its "secret hiding place." Needless to say, not much viola was played at that lesson. It was a lesson of a different type in terms of being patient and not blaming an eight year old for responsibility that he need not have been given in the first place.
When we arrived home from this "lesson," I continued this week's binge of food photography. I have been told by a little bird in New York that I need more entrées for my cookbook. The problem: while I have plenty of entrées, I love to shoot desserts. It is impossible to take a bad picture of a cookie.
Chicken Salad with Almonds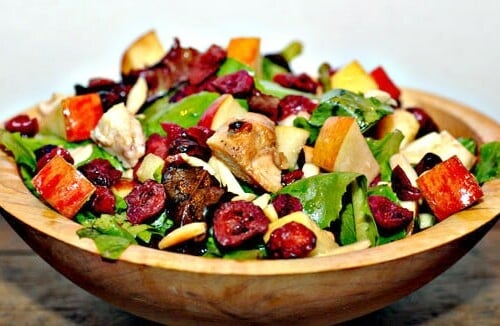 Print
Email
Pin Recipe
Instructions
Place the almonds in a pan over low heat and toast them, while you core, slice and chop the apples

Remove almonds from heat when they are lightly browned

In a

large salad bowl

, toss together chicken, (warm) almonds, cranberries, chopped apples and mesclun greens

Drizzle with olive oil and vinegar, toss, then sprinkle with salt

Serve
The whole family found this "one pot meal" light, yet hearty and satisfying. I took a huge bowl of this summery chicken salad with greens, fruit and nuts to my younger son's back-to-school potluck last weekend and there was not a morsel left.