These healthy Chardonnay Crackers have a deep, rich and buttery flavor.  They're great for everyday snacking or as an hors d'œuvre.  I like that they're high in protein and have good fats (due to the blanched almond flour) and full of antioxidants (in the Grape Seed Flour).  They're a wonderful recovery snack as well after a good workout!
This isn't the first recipe I've made using Grape Seed Flour from AprèsVin. Earlier this year I posted Chardonnay Grape Seed Flour Chocolate Chip Cookies, Cabernet Cookies and Riesling Biscuits.
Today I present to you Chardonnay Crackers.
Chardonnay Crackers
Instructions
In a large bowl, combine dry ingredients
Stir olive oil into dry ingredients
Roll out dough to ¼-inch thickness between 2 pieces of parchment paper
Using a butter knife or a pizza cutter, cut dough into 2 inch squares
Transfer to a parchment lined cookie sheet
Bake at 350° for 8-9 minutes, until just a tad browned on the edges
Serve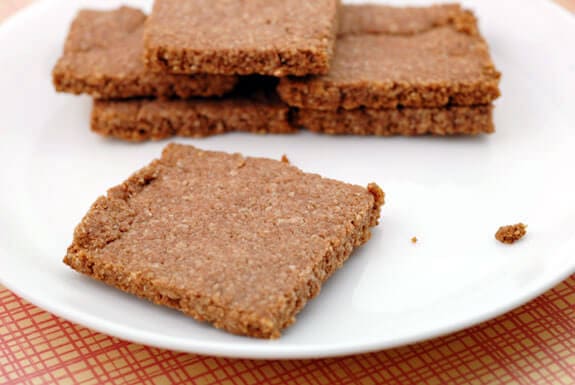 Thanks everyone for your enthusiasm around the Ball Canning Discovery Kit giveaway! It was so great to hear all of your suggestions for what you would can and do with the kit.  And the winner is….. Tracy!
In Tracy's comment she said that if she won, she would be preserving tomatoes, and that her kids would want to make pickles. How wonderful!
Thanks to everyone who participated, there were a lot of great ideas. If you haven't read through the comments on the Cherry Strawberry Ice Cream post already I really encourage you to read about what kinds of foods people would be preserving.  Many thanks to Ball for donating the kit!