A while back, I posted a recipe for Cabernet Cookies, using Cabernet Grape Seed Flour from AprèsVin. I thought they turned out very well –not too sweet, full of antioxidants and rich, dark chocolate; basically, my family was hooked.
Recently, I was reviewing the comments for that post and saw this one that Jenné from sweetpotatosoul.blogspot.com left. In it she mentioned making some cookies with grapeseed flour, so I hopped over to her blog and to take a peak. Jenne had a delicious looking recipe for Riesling Shortbread, which I decided to attempt to make gluten free.
Here it is.
Riesling Biscuits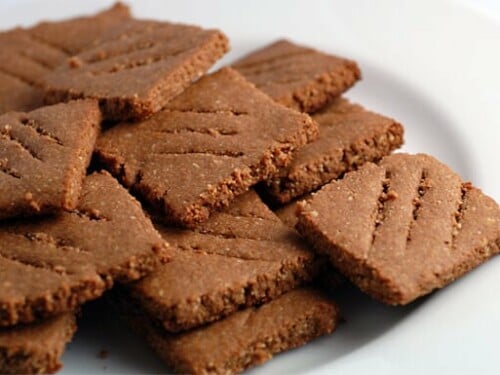 Print
Email
Pin Recipe
You can make little designs on the biscuit –I used a butter knife and was happy with how they turned out. Also, I would recommend serving these gluten free Riesling Biscuits with just a smidge of goat cheese –haven't tried it myself, though I think it would be wonderfully simple, yet sophisticated.