These yummy little protein-a-licious cookies are the result of a complimentary sample of Chardonnay Grapeseed Flour that I received from Eric Leber of AprèsVin. Grapeseed flour? Yes, you heard it right, grapeseed flour.
While these treats look like they are double chocolate chip cookies, they actually are not. It is high protein, antioxidant rich grapeseed flour that gives them their nice dark color. And yes, grapeseed flour comes in different flavors. This chardonnay grapeseed flour has a buttery taste and graham cracker type texture –I think it makes the cookies a little bit chewier and drier, though they're still very moist and I really like them.
Chocolate Chip Cookies with Grapeseed Flour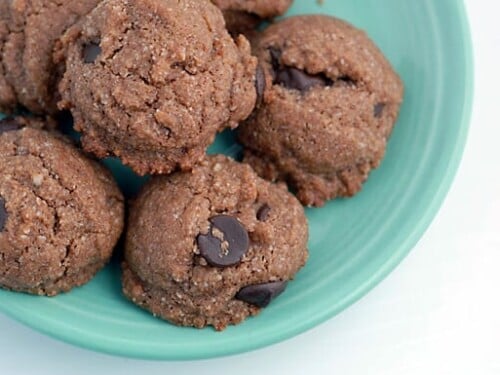 Print
Email
Pin Recipe
The Boulder International Film Festival (BIFF) is happening this weekend and I am attempting to make it to a couple of the movies. I'm particularly interested in a film called Under Rich Earth about farmers in the Intag valley of Ecuador taking on a powerful multi-national mining corperation called Copper Mesa. I'm also intrigued by another film about activism, dance and movement called Breath Made Visible.
I was hoping to take the boys to these movies however, however I think they're just a tad too sophisticated for my children. We're still at the point where I pre-screen everything they watch and each of these films is showing only once this weekend, if I am correct about the BIFF schedule, so I'll be going sans the little ones unfortunately.
I hope everyone has a great weekend and Happy Valentine's Day!