Garnish this Sesame Dip starter with pieces of carrot and celery for dipping and you have an instantly satisfying salty and crunchy snack. This dip is a hit at parties and was enjoyed at our Passover Seder (thinned out with a bit of water and) served over roasted asparagus. It's quite versatile and makes a great salad dressing as well.
Unfortunately, we devoured all of the Sesame Dip at our Seder. I was determined to make another batch the next day. Low and behold, as I was buzzing around the kitchen getting things organized for that night's dinner, my husband came in with a special request.
"Please don't make that Sesame Dip again," he said, "It's too good."
Of course, I made it anyway.
Sesame Dip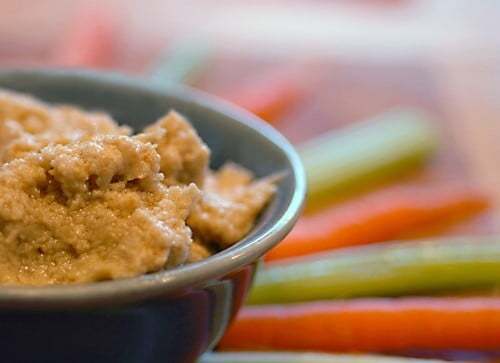 Print
Email
Pin Recipe
Ingredients
1

cup

raw tahini (if you don't have raw roasted will probably work just as well)

¼

cup

lemon juice

¼

cup

olive oil

½

cup

water

½

teaspoon

celtic sea salt

1

large clove

garlic,

pressed

½

cup

raw sesame seeds
Instructions
In a

one quart mason jar

, combine tahini, lemon juice, olive oil and water, then thoroughly stir ingredients together

Stir in salt and garlic

In a

9 inch skillet

, over medium heat, toast sesame seeds 5-10 minutes until golden brown, stirring and checking frequently

Allow sesame seeds to cool for 5 minutes, then transfer to a

food processor

or the dry container of a

vitamix

and blend until coarsely ground

Stir ground sesame seeds into tahini mixture

Serve as a dip for veggies, or to use a salad dressing, thin a bit with additional water
I hope you all had a wonderful Passover and or Easter. We had a beautiful Seder enjoying family and the fresh grown parsley from our garden that is now coming up like a weed! That's satisfaction, having something from the garden on the Seder plate.
I recently stumbled upon this excellent and informative site and became e-acquainted with the author, Dr. Lemberg. The timing is quite intriguing to me as I've been doing quite a bit of research recently as to how gluten-intolerance affects the brain. Dr. Lemberg has an article on this exact topic that I found very interesting and helpful.
Some of you have contacted me to let me know that your children are dealing with psychiatric issues that seem to subside once gluten is removed from the diet. This article is one more piece of "evidence" of the growing possibility that the inability to digest and process gluten can lead to far, far more than gut disorders and celiac disease.
I believe that the topic of gluten intolerance and cognitive function deserves a great deal more attention than it is given by the medical community. One book that does give this topic its due is called Dangerous Grains. A very worthy read indeed.