As I have mentioned here before, I am always looking for inspired ways to eat salmon. First priority, disguising the fishy flavor!
Well, lo and behold, last night as I sat on the couch making my way through the latest issue of Cook's Illustrated (my dear friend Deb subscribed me as a gift last year), I found a section on cooking salmon. I was so inspired that I decided to test out the recipe for tonight's dinner.
I do like Cook's, however their recipes are a bit fussy for me, so here you will find my take –a simple version of one of their magnificent salmon recipes.
Salmon with Tomato Basil Relish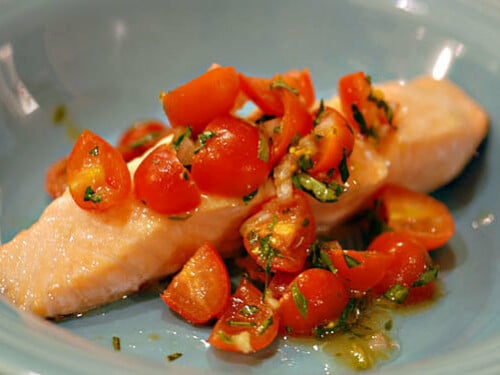 Print
Email
Pin Recipe
Instructions
Turn oven on to 500°F

Cut fish into 2 pieces, leaving skin on; rinse and pat dry with

paper towel

Rub fillets liberally with olive oil, then sprinkle with salt

Reduce oven temperature to 275°F, then put sheet with salmon on lowest rack

Roast 8 to 13 minutes --so that centers of thickest part of fillets are still translucent when cut into with a pairing knife

To make relish, stir together remaining ingredients from above in a

medium bowl

Remove salmon from oven, transfer to plates and serve with relish
This simple, healthy salmon recipe was a hit all around tonight at dinner. My favorite taste tester said he was surprised at how little fishiness there was to the salmon –a huge compliment in this neck of the woods. It's so great when those fresh, easy, healthy dinners turn out to be winners!
Salmon is in the air these days –my mother recently requested my salmon burger recipe which will definitely be appearing over here as part of the salmon series sometime in the near future.