Last night was the conclusion of a "grand" Memorial Day weekend. My parents came in and took the boys down to the Boulder Creek Fest where they all had a blast. There was much spoiling –meals out, bowling, batting practice at the amusement park and overall non-stop fun. A perfect weekend with the grandparents.
After an exhausting weekend of keeping up with my seventy year old folks, I put my children to bed for a solid night of rest. When thunder cracked so loud that my house shook, the boys bolted down to my tiny home office and made themselves comfortable with blankets on the floor as I worked.
As the little one fell asleep, the big one observed that he does so with his eyes half open, "that's how you know he is really asleep." I was told. I carried the big one up to bed for a quick tuck and an hour later hauled the sleeping little one up to his room. I guess all my workouts are really paying off –carrying 70 pounds of sleeping child up a flight of stairs makes me feel like I'm Ahnold.
After they were snuggled away in their beds and sound asleep I decided to work on a new chocolate recipe, galvanized by Holly's challenge in the comment section of my Raw Chocolate Fudge post. She inquired about using stevia and cutting back on the agave in that dessert; in my quest to do so I came up with these extra dark truffles. Holly, thanks for your inspiration.
Rosemary Chocolate Truffles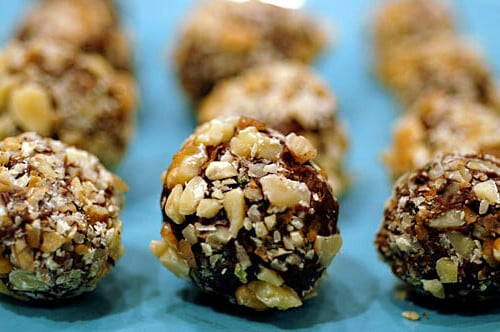 Print
Email
Pin Recipe
Instructions
In a

large bowl

, combine cacao, coconut oil, coconut butter, almond butter, agave nectar and stevia

Stir ingredients until well combined

Place bowl in freezer for 10-15 minutes until chocolate reaches cold, firm consistency

Remove from freezer and roll into 1 inch balls

Place walnuts and rosemary in a bowl and roll each truffle in mixture to coat

Serve

Be sure to store in fridge to maintain texture and consistency
Equipment
In addition to Holly's great request, teaching the 3rd graders to make chocolate fudge gave rise to this new recipe. For that cooking class, I brought in a dozen different herbs, spices, dried fruits and nuts and allowed the children to choose what to add to the basic recipe.
One of the 3rd graders, Zippy, made rosemary flavored fudge. I had hoped that one of the students would choose this herb as I was intrigued by the idea of adding it to chocolate. Her choice was sophisticated, adventurous and turned out to be one of my favorite flavors.
Many thanks go to Holly and Zippy for their fine inspiration!