A few of my favorite things? Coaching baseball. Growing vegetables. Walking on a sunny day. Hanging with my husband late at night after the boys have gone to bed. Cooking with children –of any age.
Recently I have had the opportunity to teach cooking to my son's third grade class. This has been great fun. I get a real glimpse of each child and his or her temperament when we cook together –in the classroom mixing things up, working away.
I break the children into groups of 4, hand them a recipe, then pass out cooking equipment and ingredients. It is so much fun to watch, help and see what cute and adorable comments they make as they cook, "Elana, are these nuts chopped well enough?" That was a regular comment during our Charoset project in April. They are so careful and caring in their handling and preparation of food. It is quite awe inspiring.
Now, as the end of school approaches, the ice cream truck screams through our neighborhood, announcing the arrival of overpriced individually packaged treats. In direct competition, I respond with my own homemade goodies.
For this school year's final venture into the classroom: chocolate from scratch. I taught my favorite 3rd graders to make the raw dessert that follows.
We made a big mess. We had lots of fun.
Raw Chocolate Fudge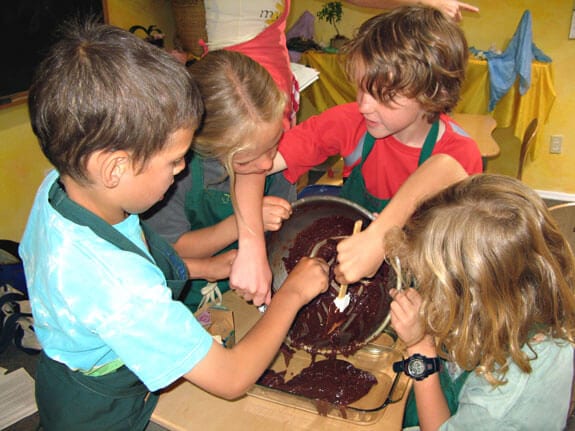 Print
Email
Pin Recipe
Instructions
In a

large bowl

, combine cacao, coconut oil, coconut butter and macadamia nut butter

Stir in agave, vanilla, salt and cinnamon

Mix well, mashing lumps against side of bowl with a fork to smooth out batter

Place in freezer for 1-2 hours, until firm

Cut into squares and serve

Store in refrigerator or freezer to maintain proper texture and consistency
This recipe is based on one that I found at Circle of Healers. Many thanks to them for coming up with a fabulous superfood dessert rich in anti-oxidants and good fats.
To make a more exotic fudge add your favorite nuts, dried fruit and spices. The children and I added raisins, macadamia nuts and various spices to their fudge –it was fun to see them get creative. My personal favorite was Cutter and Elijah's addition of toasted coconut, which resulted in little "Mounds Bars" treats.
What would you like to add when you make this delicious dessert? Don't be shy! Go ahead, let us know; share your great ideas below…