Fall is a full time of year; especially for a Jewish family with children in a Waldorf school. Last week we celebrated Rosh Hashannah (Jewish New Year), yesterday was Yom Kippur (Day of Atonement) and this coming Friday is Succot, the fall harvest festival celebrating the bounty provided to the Jews during 40 years wandering the dessert after the Exodus from Egypt. Whew.
During this time of year the Jewish holidays come unremittingly, like waves beating against the shore, one after the other. Don't get me wrong; I do like the holidays, because even with such fullness, the season provides space for reflection –letting go of old ways and setting new intentions for the coming year. I enjoy the process even if I find the pace a challenge.
Now add to all of that our Waldorf festivals and sometimes I do want to run for cover. Next week my boys' school will celebrate Michaelmas, the Christian analogue to Succot. Basically another fall harvest holiday, honoring the autumnal equinox and the shortening of days. The main character of Michaelmas is St. Michael, known, as the conqueror of the dragon and the saint of strong will; the heavenly hero with his starry sword who gives strength to people.
So, on these final days of Indian summer, as the air becomes crisp and we receive the last gifts of Colorado's glorious peach harvest, we all celebrate the end of one season and the beginning of the next. For that, it doesn't matter what your religion is.
Below, the dish I made for Yom Kippur this year before we began our fast. I served it with a big green salad and squash soup. I hope you enjoy it as much as we did.
Oven Roasted Chicken with Peaches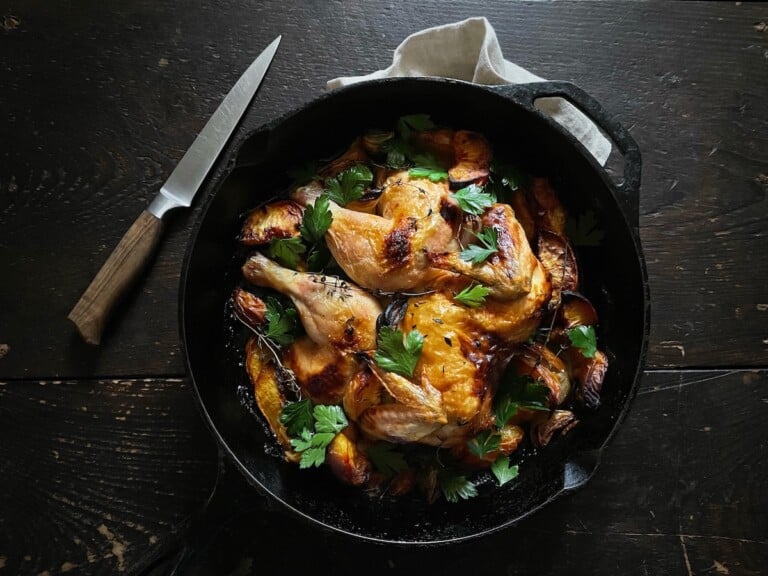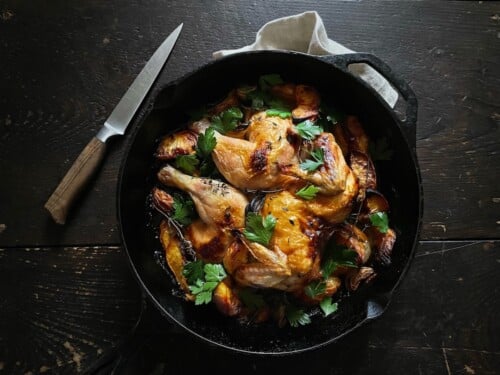 Print
Email
Pin Recipe
Ingredients
1

whole chicken (2-3 pounds)

¼

cup

olive oil

1

teaspoon

celtic sea salt

4

peaches, sliced

4

shallots, halved

6

sprigs fresh thyme
Instructions
Position chicken breast side down and cut out backbone

Flip over and press on chest bone to flatten

Rub with oil, season with salt, then scatter peaches, shallots, and thyme around the chicken

Roast at 400°F for 80 minutes

Serve with peaches and pan sauce
This fruity, high protein chicken dish is delicious; in winter I use a bag of frozen organic peaches to bring back the sweet taste of summer. This recipe is based on "Roast Chicken with Balsamic Peaches," from Real Simple magazine's October 2006 issue.