The 8th graders at Shining Mountain Waldorf School held a huge peach sale this week and we participated by ordering two cases. Today, the boys and I picked up 40 pounds of luscious local Colorado peaches after dismissal. Hands and faces sticky with juice, the boys dug in before we made it to the car.
Now, we are in peach heaven, flush with fruit. Accordingly, I have been rifling through recipes to find a variety of ways to put our massive haul to good use.
Although it may be an unexpected pairing, I have always enjoyed the combination of peaches and arugula; following is my go to summer salad, which works well for this time of year too.
Peach Arugula Salad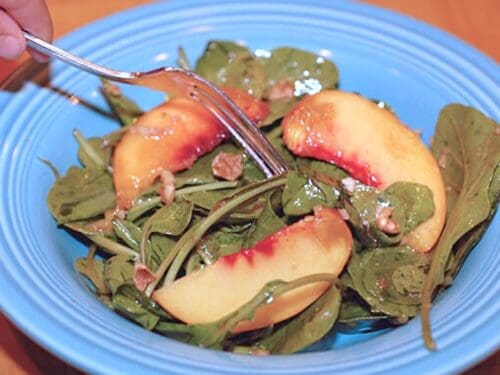 Print
Email
Pin Recipe
I served this at my birthday dinner with my favorite green goddess dressing instead of the vinaigrette above and it was a huge hit. The next night Chris (Josh's mom) requested that I bring this salad to her house when we made dinner over there for our families. The combination of peaches and arugula is very refreshing and lapped up by adults and children alike. You can also try this salad with my spicy walnut vinaigrette, which has smoked paprika in it for a pungent change of pace.
What is your favorite way to prepare peaches? Please let us know! I still have 37 lbs to go!