We have a big all star game tomorrow, though unfortunately I will be missing it. One of my parents was hospitalized this week so I am flying back to California for a weekend visit.
As I tucked my older son into bed tonight he said, "I want extra snuggles since I won't see you until Sunday." He was very disappointed that I would be missing his game and couldn't completely understand how a hospital visit could take priority over his tournament. I did pack a couple of batches of Almond Butter Blondies for his team (to keep them energized during the game) and am hoping my husband will remember to take them along tomorrow.
I also made these macadamia caramel clusters for my husband. I experimented with them earlier this week and he just about ate the entire test batch –I took that as a sign that they were good enough to share with all of you. I hope you like them as much as he does.
Macadamia Caramel Clusters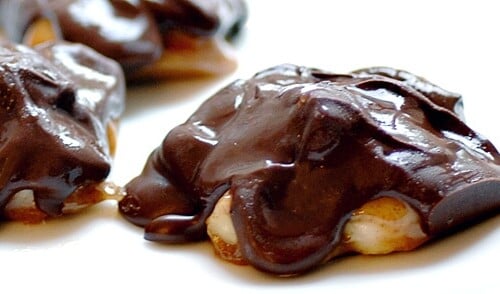 Print
Email
Pin Recipe
Instructions
Combine almond butter and agave in a medium saucepan over low heat

Stir in vanilla and salt, then add macadamia nuts

Allow mixture to cool a few minutes

Place dish in freezer for 10 minutes

Melt chocolate in a medium saucepan over lowest heat possible, stirring continuously to avoid scorching

Remove dish from freezer and drop chocolate over each caramel cluster, spreading gently to coat

Store macadamia caramel clusters in freezer

Remove from freezer just before serving (if left out for long they become quite messy)
Equipment
My husband said these remind him of my candy bars –though says these are better. What do you think? Macadamia Caramel Clusters or Candy Bars? What'll it be?