And now, time for something easy. After making far too many desserts during the holidays, I thought it might be good to share a recipe for a quick meal. Children and adults alike enjoy this simple, yet decadently rich pasta dish.
Macaroni and Cheese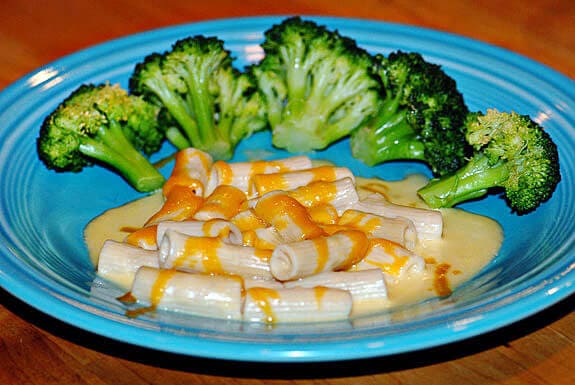 Print
Email
Pin Recipe
2 cups grated cheddar cheese
2 tablespoons salted butter
½ cup heavy cream
1 tablespoon kudzu
¼ cup water
2 cups steamed broccoli
extra grated cheese to drizzle over pasta
In a

large pot

, bring 12 cups of water to boil, then add 1 tablespoon grapeseed oil and pasta

Reduce to slow boil, stirring frequently and cook uncovered 7-9 minutes

Drain pasta in a

steel colander

In a small

saucepan

, heat cheese, butter and cream over low heat and stir until melted

In a

small bowl

, dissolve kudzu into water and mix well

Stir kudzu mixture into pot of melted cheese

Whisk

cheese mixture vigorously by hand or with a

hand blender

Drizzle cheese sauce over pasta

Serve with broccoli and a sprinkle of extra cheddar
Prep Time 20 mins
Cook Time 27 mins
Total Time 47 mins
My boys never fail to devour this classic child-friendly dish –old time comfort food with a new gluten-free twist. They usually end up mopping the remains of the cheese sauce off their plates with the broccoli. I hope you enjoy this rich and creamy gluten-free macaroni and cheese recipe as much as they do.