Take a look at the picture above. No, that's not a floating grapefruit. If you look closely, you can see the tip of my younger son's fingers lifting a grapefruit from the bowl of salad. This quick and easy (and of course gluten-free) salad is delicious anytime of year, though perfect right now as we approach the end of citrus season.
Kale Salad with Grapefruit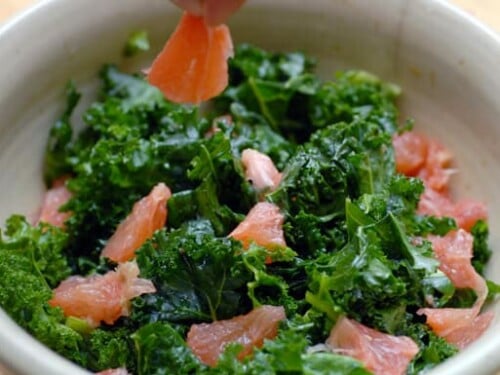 Print
Email
Pin Recipe
Instructions
Chop the kale into thin ribbons

Drizzle the olive oil onto the kale and then massage the kale with your hands

Sprinkle with salt, then add lime juice and vinegar

Add grapefruit to kale and toss salad

Allow to sit for 15 minutes so that kale softens and flavors integrate

Serve
Equipment
Although I made this salad with what we call "curly kale," I think it tastes a bit better with dino kale. I find that dino kale works better for raw salads as it seems to "soften" during the marination process more easily. The curly kale seems a bit tougher. My husband loves this salad, though my boys still prefer their kale cooked.
How do you do kale? Stay tuned in upcoming weeks for one of my family's favorite side dishes, Sauted Kale.