This dark green, luscious shake is my go to drink when I need a little protein pick me up.
To me, the flavor of the kale is not that pronounced, what comes through is the creamy richness of the protein powder with the tart sweetness of the orange, thereby forming a yummy gluten-free, dairy-free creamsicle experience in a glass.  Enjoy!
Kale Creamsicle
Instructions
In a vitamix combine kale, orange, water and puree on high speed
Blend in protein powder, then ice cubes
Serve in a pretty glass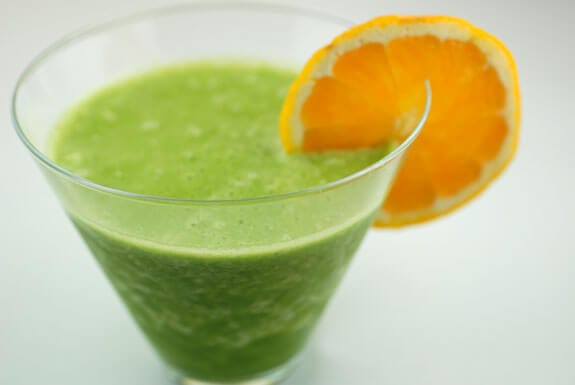 I will be speaking at (the sold out!) BlogHer Food '10 this Saturday, October 9th discussing the ins and outs of recipe writing. You can find more information about my appearance on the BlogHer event website.
Don't forget about my giveaway for a chance to win a copy of my new book, Gluten-Free Cupcakes: 50 Irresistible Recipes Made with Almond and Coconut Flour
. To be entered, head on over to my Gluten-Free Cupcakes Cookbook post. This giveaway will end on October 11th, 2011. The book will be shipped to the winner on its publication date, April 26th, 2011.