Mangoes are an incredibly tasty tropical fruit, full of prebiotic dietary fiber and antioxidants. However, getting to the sweet flesh of a mango can be quite a process. Have you ever wondered how to slice a mango? Or how to pit or peel a mango? If so, you are not alone. The process can be incredibly messy and frustrating.
Trust me, the effort is worth it as mangoes are also the perfect Paleo Dessert. And with my "how to slice a mango" tutorial below the process will go from frustrating, to fast and easy! No need to buy fancy mango slicing gadgets that will take up more space in your kitchen drawers. All you need to slice a mango is a nice sharp knife and a chopping board.
How to Slice a Mango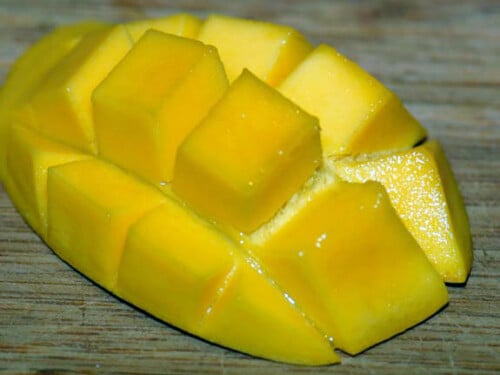 Print
Email
Pin Recipe
Instructions
Stand the mango on its end, with stem side down

Slice the flat sides off the mango, without cutting into the pit

Without cutting through the skin, cut the mango with vertical lines

Next, score mango with horizontal lines; leaving squares attached to the skin

Turn the piece of fruit inside out and use a spoon to dislodge the cubes from the skin

Repeat for the other half of the mango
So there you have it! How to cut a mango, because as the weather warms, I follow suit and warm weather fruits make their way into my shopping cart. Today I found gorgeous yellow mangoes. I bought one and when I arrived home did the mango tango –a dance of slicing this slippery fruit. I let the boys chew on the pit –a sweet and messy diversion for hungry little ones.
Here are some of my healthy mango recipes: