Looking for delicious and healthy dessert ideas to tide you over during the holiday season? What about apple crisp –one of the easiest desserts to make; perfect for both beginner and advanced chefs.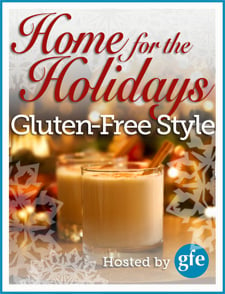 I developed this gluten free Gingerbread Apple Crisp recipe for Shirley Braden's blogging event, Home for the Holidays Gluten-Free Style. Every day, from Monday, November 28 through Friday, December 23, a different blogger will share a gluten-free recipe that means both home and the holidays to them. Here's more from Shirley:
Our Home for the Holidays Gluten-Free Style blogging event offers the comfort, joy, excitement, and fun of the holidays with wonderful recipes from your favorite bloggers.
A special thanks to Shirley for including me in the event. If you are in the Fredericksburg, VA area, be sure to check out the gluten intolerance/celiac support group that she runs where they discuss topics such as celiac disease, the gluten free diet and how to survive the holidays.
This time of year can be challenging and filled with dietary dilemmas. How do we stay connected to, and feel a part of, the festivities yet remain true to what our bodies need when our visual and olfactory senses are inundated by foods that might not be part of our regular program?
If you are on a special diet, this gluten free, grain free Paleo friendly dessert recipe will likely work for you. Further, I like this Gingerbread Apple Crisp because it's festive enough to bring to a party (or serve to guests in your own home) and also healthy enough for those needing to stay away from certain foods (sugar, gluten and dairy come to mind).