This is an R rated post. You may not want to open it in front of children.
How could eggplant not be appropriate for all audiences? Well, that's not the problem. It's The Tipping Point
. That's the problem. I read the book during the winter holidays. It was great, completely interesting and had been on my reading list for a couple of years.
Unfortunately, last night I gave it to my 10 year old son to peruse. Why did I do such a thing? We were talking about his school report (on Paul Revere) and I mentioned to him that there was some good information on Revere in The Tipping Point.
I gave him the book to read at bed time and the next thing you know he was asking me, "Mommy, what is that disease, syphilis?"
"It's just a disease like heart disease." I simply responded. I don't like to go into detail with the boys on subjects I feel are not age appropriate. He seemed satisfied.
I continued to cuddle with my little boy and the older one walked into the room a few minutes later, "Mom, what's crack cocaine?" he asked.
Baffled as to what to say, I answered him, "honey, I gave you an inappropriate book to read that has information on sex and drugs. After I tuck in your brother, I'll find the parts about Paul Revere and you will not have to read anything else." He and his brother chuckled at my blunder and he walked out with a little grin.
I went into his room a few minutes later and we searched the book's index, finding the relevant material.
The next night at bedtime when we were all discussing what we were going to read he said, "Mommy, I'm not reading The Tipping Point, it's not appropriate, I have a better book, it's Daddy's and it's called Buzzmarketing.
"
Ha! Might be time for a trip to the library for some age appropriate materials. Luckily dinner went better than other things. Here's one of the items that I prepared. There wasn't a drop left at the end of the meal. Nice to know I can still do something right.
Eggplant Caponata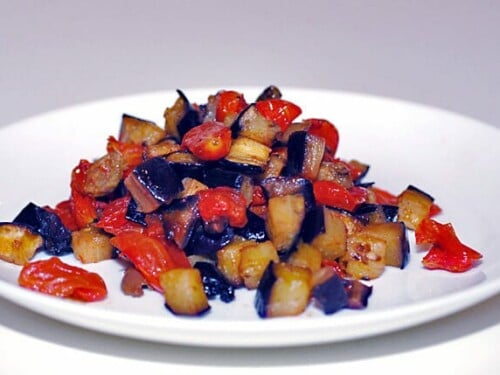 Print
Email
Pin Recipe
Ingredients
1

medium eggplant,

diced into ½-inch cubes (leave skin on)

½

cup

cherry tomatoes,

sliced in half

2

tablespoons

kalamata olives,

sliced in half

2-4

tablespoons

olive oil

¼

teaspoon

celtic sea salt
Instructions
In a

large bowl

, combine the eggplant, tomatoes, olives, olive oil and salt

Bake at 350°F for 35-45 minutes until eggplant is tender

Serve
This dish is quick and easy. I got the idea for it the other day when my friend Martha said she had roasted eggplant with tomatoes and olives at a holiday party. It sounded delectable and I was off to the races.
I think any kind of olives would work well in this delicious roasted vegetable dish. Enjoy!