These delicious cookies, chock full of coconut, walnuts and raisins are the product of our very recent visit to my parents.
Today the boys and I returned home to Colorado from visiting them in California. We went to have some family bonding time and distract them from a health issue one of them has been dealing with over the past year.
While there, we were able to see my sister, Dina and hang out with her. Of course, I wanted to know what she's been cooking lately. Among many other things, she's been making a version of my chocolate chip cookies sans chocolate, adding coconut, walnuts and raisins.
After making dinner and doing a few loads of laundry, I eagerly popped these in the oven. They were every bit as good as she said they would be.
Dina's Delightful Cookies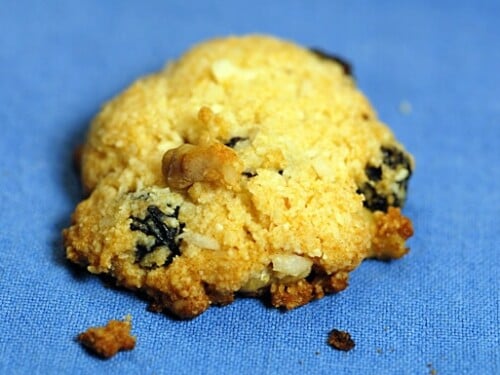 Print
Email
Pin Recipe
Instructions
In a

medium bowl

, combine almond flour salt, baking soda, walnuts, coconut and raisins

Stir dry ingredients into wet, mixing thoroughly

Bake at 350°F for 8-10 minutes, until golden brown around the edges

Cool and serve
The dough for these cookies tends to be a little crumbly so you'll need to use some extra pressure when forming it into balls. In terms of other information regarding this recipe, I toasted the chopped walnuts, though not the shredded coconut. No reason really, other than instinct. I cook quite a lot by instinct so it's kinda funny to me when people ask why I do things a certain way. Often there is no conscious reason.
Dina uses these as a breakfast cookie. While I myself don't do well eating sweets for breakfast, many of you might find these a tempting and delicious way to start your day. I'll be saving mine for dessert. Either way, thanks Dina, and yum!