You will find this cool and creamy cucumber avocado soup refreshing on a hot summer day. I've been drinking it all weekend and experimenting with it along the way.
I tried making it with raw garlic, which did not go down as smoothly as I thought it would, so I eliminated that ingredient. However I did leave in the raw onion as it added a very sharp yet sweet flavor.
According to my first friend in the entire world, Amy Merideth (we go back to age 2) this recipe is an optimal way to use up leftover cucumbers, which apparently her mom, Beth, has a lot of. It's also a nice way to rehydrate yourself after a long day in the hot summer's sun.
Cucumber Avocado Gazpacho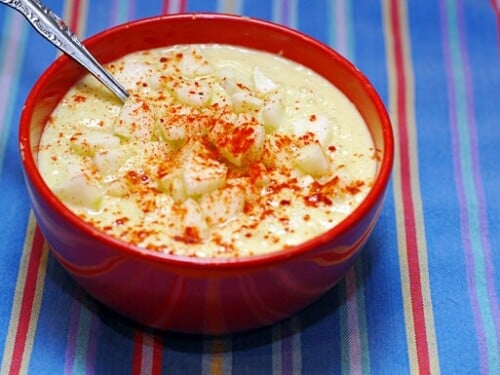 Print
Email
Pin Recipe
Instructions
Place avocado, cucumber, oil, vinegar, and bone broth in

vitamix

Puree on high speed until smooth

Blend in salt and smoke paprika

Serve
Equipment
Now and then I like to highlight reader's comments that are especially captivating. Here's a favorite, that I just received a few days ago, from Kristin; she describes a conversation with her 5 year old daughter and it's a real gem.
"Hey Mom, did you bake without me?"
"Sorry hon, I wanted to try a new Elana recipe."
"Well, what's in 'em?"
"Almond meal, flax meal, eggs, dates, raisins."
"Hmm. That's all? No agave?" "Nope."
"Well, the dates and the raisins give them a really nice sweetness. Mild, but good. I love them, even if you did make them without me."