The boys were buzzed this afternoon –their hair that is. Now the little baldies will be nice and cool in the warm weather.
It hasn't been all that hot though lately. In fact, we've had many cloudy afternoons and so far this summer haven't made it to the pool yet. I have a feeling that once the summer solstice passes we'll get a good dose of hot weather and go for late afternoon swims at the community pool before our dinner-time baseball practices.
On another note, because so many of you have expressed an interest in threads and conversations that might not be entirely related to one post, I have decided to launch a forum. Where is it? Just go to the navigation bar on the right hand side and under "main menu" click "forum" and you will be taken there straight away. This forum creates another step in the evolution of our ongoing discussions regarding recipes, celiac, organics, diy eco-cleaners and several other topics that have bubbled up over here recently. I hope we all have a lot of fun with it.
Cherry Arugula Solstice Salad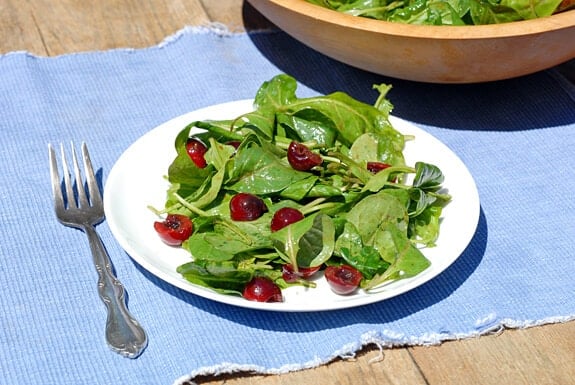 Print
Email
Pin Recipe
Pit

each cherry and then cut in half

Rinse and spin the arugula

Place arugula and cherries in a

large salad bowl

Place olive oil, vinegar and mustard in a small jar and shake well to create dressing

Toss dressing onto salad

Serve
Prep Time 10 mins
Total Time 10 mins
My mother-in-law is having a summer solstice party on Saturday. I created this Cherry Arugula Salad in honor of her event. Although I know it will never surpass her all time favorite dish, Chipotle Orange Chicken, I'm just hoping that she'll like it enough to serve it alongside.