All of the Jewish holidays have fabulous culinary traditions, and Hanukkah is no exception. During Hanukkah, we celebrate the miracle of lights with fried food. How is frying connected to Judaism? I'll get to that in a minute. First, a few words about this apple fritter recipe, a spectacular Hanukkah dessert. Sweet rings of freshly sliced apple are dipped in a grain-free, nut-free batter made of coconut flour, arrowroot powder, and eggs, then deep fried until golden and crispy.
Fried foods play a large part in the celebration of Hanukkah. The story of this festival is an inspiring one for Jews everywhere, which calls forth our gratitude for our religion and its rich history. According to our tradition, the ancient temple in Jerusalem held the eternal flame which burned oil. The Jews survived an attack by the "superpower" of the day (this was over 2,000 years ago) and the desecration of the temple, due to a successful revolt by the Maccabees. After this battle, a one-day supply of oil remained. Miraculously, this small supply burned for eight days, enough time for more to arrive.
Although people tend to make a big deal out of it because it falls near Christmas, Hanukkah (or Chanukkah, Chanukah) is a festival, not a holy day. Unlike Rosh Hashanah, Yom Kippur, and Passover (holy days in Judaism), Hanukkah is not mentioned in the Torah (the Jewish bible). It is briefly mentioned in the Talmud, a collection of Jewish oral law and tradition.
In honor of this miracle of light, we celebrate the festival of Hanukkah by lighting candles for eight nights. We also cook foods in oil (latkes, donuts, sufganiyot, and other fried foods) in observance of Hanukkah.
Apple Fritters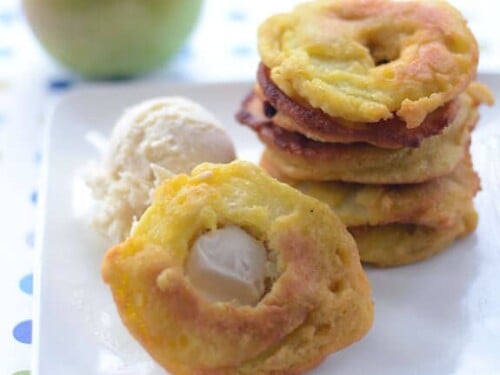 Print
Email
Pin Recipe
Instructions
In a

medium bowl

, combine coconut flour, arrowroot, and salt

Mix in eggs and maple syrup

Dip apple rings in batter

Fry in small batches, about 2 minutes per side

Serve with ice cream and cinnamon sugar
This grain-free apple fritter recipe is based on recipes by two of my favorite chefs –Claudia Roden
and Martha Stewart. As mentioned above, it is traditional at Hanukkah to fry foods in oil. While this may not seem healthy, it is party of our celebration of the miracle of lights.
In my family, the tradition is to fry in olive oil, and that's what these apple fritters (to me they're almost an apple latke) are fried in. I haven't tried frying them in any other oil, so I'm not sure how they would turn out. If you do experiment with the oil in this recipe, or any other ingredients for that matter, please leave a comment below and let us know how your experiment turned out. As always, I don't know the answer to your substitution questions, the only way to find out is to try, so go for it!
I don't think deep fried foods are really, truly Paleo, however, if you are looking for something akin to a Paleo Hanukkah dessert, this might be as close as you'll get! What is your favorite Hanukkah dessert?