As fall approaches, my attention is shifting to our fruit trees. A few years back we planted a peach and two apple trees along the perimeter of our packed yard; they are now bursting with fruit, as is our dwarf plum. While we eat the peaches and apples straight off the trees, each fall we make a habit of picking the tart little plums and making our own homemade jam from them.
During this last weekend, the boys commenced with our plum harvest. First, they went out to the yard and shook the fruit down from the tree. Then they collected the plums in a large (unbreakable) metal bowl. Next, we gathered in the kitchen and made this tangy fruit spread.
Vanilla Plum Jam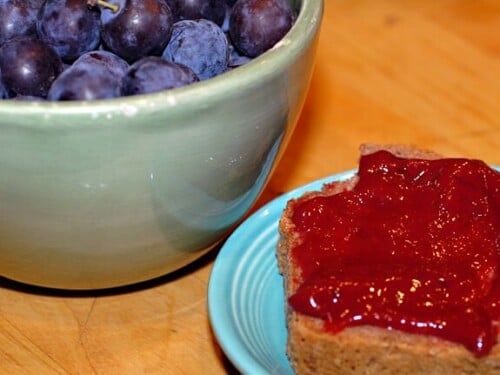 Print
Email
Pin Recipe
Instructions
In a large covered saucepan, bring plums, agave and vanilla bean to a boil

Lower heat, uncover pot and simmer 15 minutes, until plums are dissolved (though skins will remain)

Cook 10 more minutes to reduce mixture, then stir in stevia

Remove vanilla bean, place plum mixture in

vitamix

and puree on highest setting

Transfer mixture back to pot and reheat on stove

In a

small bowl

, combine arrowroot powder and 1 tablespoon water to make a slurry

Bring plum mixture to a boil, then add arrowroot slurry, stirring continuously, until incorporated

Remove from heat, cool and transfer to mason jars

Store in refrigerator for up to one week
Equipment
Feel free to play with the amount of agave and stevia called for in this recipe. I used a lot of each sweetener because our plums are small and quite sour. If you don't have stevia, just use agave. If you don't have either, experiment with your own choice of sweetener.
I use arrowroot in this recipe (and many others) as a thickener, I'm not quite sure what would make a good substitute if you don't have that on hand. One solution might be to reduce the jam down to your desired thickness, cooking out most of the liquid. If you do find that something else works in place of arrowroot, please leave a comment and let us know. In terms of using another fruit in place of plums, I imagine that might work –again, if you experiment with this, please share your results.
This thick gluten free, naturally sweetened, no sugar plum jam is delicious on pancakes, toast or warmed up over a big bowl of vanilla ice cream.
Tomorrow evening, September 17th at 5pm, I will be speaking at Pharmaca on Pearl Street in Boulder with Margaret Romero CNP, of Helios Health Center. She will be discussing alternative treatment methods for recalcitrant celiac disease and I will talk about the social aspects of dealing with this diagnosis.