We are having friends over tomorrow evening for a small barbecue and I will be serving this easy, delicious, tangy salad dressing over fresh greens from our garden.
We started our garden very early and have planted literally dozens of green veggies in it. The boys are enjoying the many different types of kale that are now growing like weeds. I am particularly fond of the bitter greens –mustard and arugula. My husband loves them all and asks for a bigger pile of greens every night at dinner. I think I'm finally harvesting enough for him.
We actually have a bit more space in our front yard than the back, so we packed veggies in all over, with total disregard for convention. We are going to be tilling up a patch of lawn in the very front of our yard to plant hard squash, which my little boy (not so little, he's now 9!) loves.
We have so much bounty already, that I sometimes joke I may need to start my own CSA this summer. Let's just say I haven't bought greens from the store in a couple of weeks and we've been eating tons of the good stuff every night for dinner.
Umeboshi Cucumber Dressing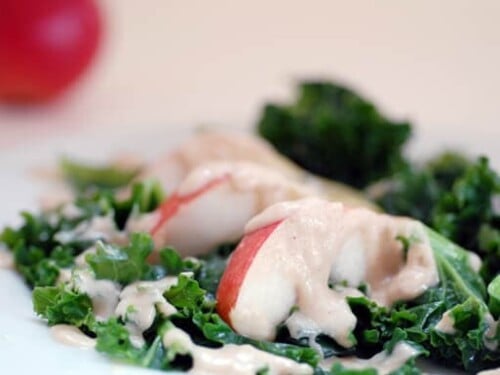 Print
Email
Pin Recipe
Instructions
Place all ingredients in a

vitamix

and puree until smooth

Serve over your favorite fresh or steamed greens
Equipment
The dish pictured above is steamed kale with slices of apple and of course, this Umeboshi Cucumber Dressing.
Well, summer seems to finally be here. The boys are out of school, we're harvesting vegetables and we've had a nice spell of hot weather!
We're heading off to my parents house for a visit next week where the boys will be spoiled with non-stop fun. With all of that and our lush garden, the spell of summertime is beginning to sink in quite pleasantly. I hope you all are beginning to surrender to the "spoils" of summer as well.