This is one of my fall favorites. I started making it years ago when we lived in New York. This dish showcases squash as great comfort food for the whole family.
Squash with Cherries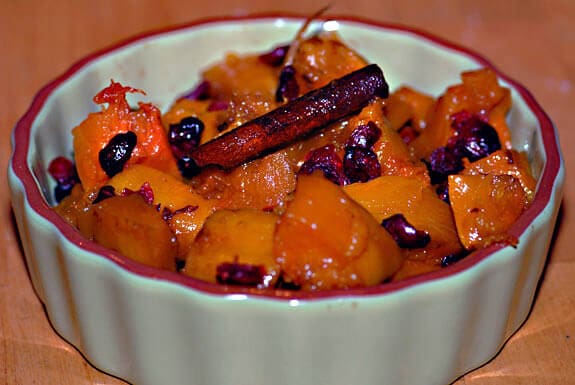 Print
Email
Pin Recipe
1 large butternut squash, peeled, cut into one inch cubes
½ cup dried cherries
10 slivers lemon peel
1 cup apple juice
½ teaspoon celtic sea salt
Toss ingredients together in an

9 x 13 inch baking dish

Bake covered at 350°F for one hour

Remove cover and bake an additional 10 minutes to brown

Serve
Prep Time 10 mins
Cook Time 1 hr 10 mins
Total Time 1 hr 20 mins
Sweet and delicious, this gluten-free Thanksgiving side dish brightens up winter well after the holidays pass.