Spicy Party Mix is a fabulous appetizer and a great healthy snack for kids. For adults, it goes really well with a cocktail; for children it's the perfect replacement for Chex Party Mix.
Ever since the boys were little we've been visiting a resort in Mexico called Palmilla. It's an old time place in San Jose del Cabo, one where Sinatra and his friends used to hang out and it's gorgeous. This year is the first year that we have not gone to Pamilla. It's closed until spring 2015 due to Hurricane Odile which destroyed parts of Baja California. From the news reports we saw it looked like utter devastation. They have our prayers in rebuilding entire towns.
On one of our visits to Palmilla, the hotel served a cocktail snack that was a mixture of nuts, dried fruit, and chili powder. I knew I'd have to make my own version of this sweet and salty snack for my family so we could eat it all year round. I hope y'all like it as much as we do. But beware! It's addictive!
Spicy Party Mix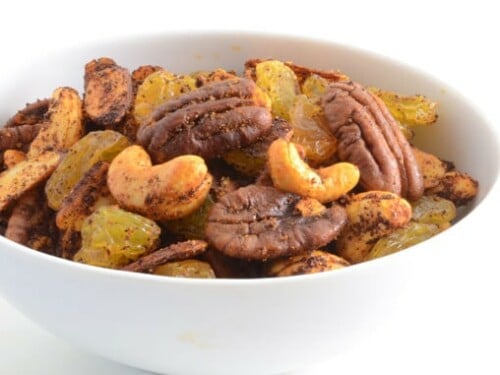 Print
Email
Pin Recipe
Instructions
Sprinkle chili, chipotle, and salt over nuts, tossing to incorporate

Bake at 350°F for 8-10 minutes

Remove from oven and cool, then toss in raisins

Serve
This fabulous Paleo snack recipe is equally wonderful for a festive New Year's Eve cocktail party or to take in the car on a cross country journey. I haven't tried making it with other combinations of nuts and fruits, but if you do please share your versions with us in the comments section below!