Every Friday night, I roast a chicken. My children are willing to consume any chicken dish as long as it contains fruit. Such is our unspoken agreement.
This past week, I used apples to lure my children to their protein dish. The combination of rosemary with apples was a natural pairing and the balsamic vinegar, which caramelized during roasting, sweetly permeated the entire chicken.
As I served this up to my family and asked how they liked it, my younger son exclaimed, "Mommy, it's AMAZING!" Needless to say, I'm quite happy with the outcome of this little experiment, which yielded good results on the very first try.
Rosemary Apple Chicken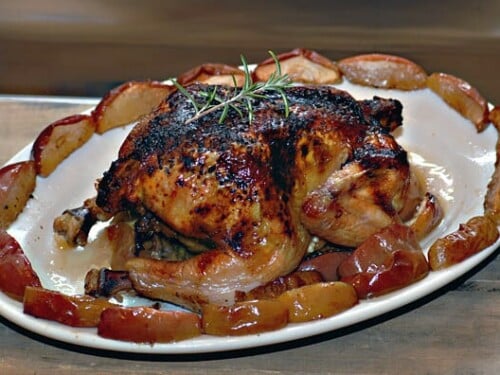 Print
Email
Pin Recipe
Instructions
Drizzle with oil and vinegar, then sprinkle with salt

Arrange the apples around the chicken in the baking dish

Place the sprigs of rosemary under the chicken

Bake at 350°F for 90 minutes, until browned on the outside

Serve
This delicious fruited chicken dish is great for guests, providing warm soft apples as comfort food along with a good dose of protein – all in one dinner.