It's amazing what you can do without any flour! I made this gluten free chocolate cake using beets. Being "Deceptively Delicious" I fooled my husband. While my children are game to eat pretty much anything I make, my husband is known as the "picky" eater around here.
Because of his strong critiques and my perfectionist bent, I often find myself testing a new recipe four, five or more times. Though this one I nailed the second time, it was that easy.
As I whipped up beet cake 2.0, I did find myself thinking, "How can I hide this mystery ingredient from him?" He had scoffed at beet cake 1.0, spitting it into the sink. "How can I fool him?" I thought as I stirred the batter. I guess that would make me Jessica Seinfeld to his Jerry.
Though unlike Ms. Seinfeld, I found myself sneaking beets in not to add nourishment (all of my recipes are fairly nourishing with high protein almond flour and low glycemic agave). I was rather, trying to figure out a way to make a less costly cake.
Almond flour is fabulous to cook with, though pricey. I wanted to come up with a cake that would be cheaper to make -though do keep in mind that this cake while cheaper, does not offer the same nutritional benefits that one made with almond flour would.
Here's my "deceptive" purple velvet torte. Enjoy!
Purple Velvet Torte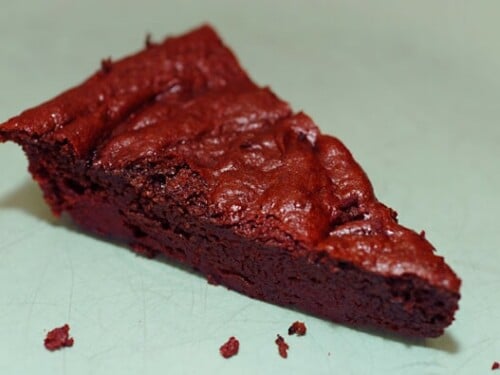 Print
Email
Pin Recipe
Instructions
In a medium saucepan, heat the beets and agave to a boil, then cover

Reduce to a simmer and cook for 30 minutes, until beets are soft

Transfer beet-agave mixture to a

vitamix

and puree on highest speed until smooth

Blend in eggs, oil, vanilla, almond extract, cacao and salt until thoroughly incorporated

Bake at 350°F for 30-35 minutes until a knife inserted into the center comes out clean

Cool and serve
Cook Time
1

hour
10

minutes
Total Time
1

hour
25

minutes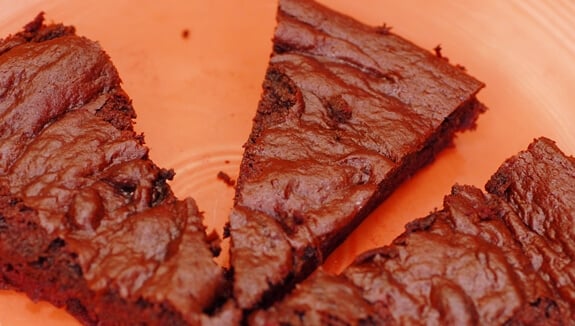 My older son has been steadily working away on this blog with me. He is 10 years old and every week he discusses what "we" will be posting. He often sneaks down after I put him and his brother to bed, for a blogging session during which we take photos or write copy here.
This week, as I was on a deadline for another project, he decided that he would be the one shooting the pictures of the purple velvet torte. So, please welcome my new phototgrapher! He took these pictures on his own as I proofread another document, knocking the camera over only once. Besides that incident he was a total pro! Really.
He was however, very disappointed as he "proofread" this copy that I used the word "sneaks" above. He wanted me to say that we "work together," and I must say, he is correct. I guess that would make me Heather to his Leta (once her daughter starts reading dooce Ms. Armstrong may have her hands full).
Update: I've edited the cooking time in this recipe thanks to one of the comments below. The one in the recipe above is now correct and my family is very happy since they are eating this gluten-free torte yet again (since I made it a third time to verify the cooking time). As always, thanks for your comments!