This recipe for gluten-free Paleo Girl Scout cookies is based on one from the wonderful cookbook Paleo Indulgences
by Tammy Credicott (the book also has a fantastic forward by Robb Wolf). This Paleo cookbook is packed with healthy substitutes for your favorite treats. Tammy has done an amazing job in compiling nutritious, yet mouthwatering recipes that range from all sorts of fun gluten-free baked goods and candies to healthy entrees and vegetable dishes.
My favorite part of this gluten-free Paleo Girl Scout cookie recipe? The vegan caramel sauce recipe that Tammy includes in it, which is a true piece of culinary genius. There are dozens of other treats that you'll want to have at hand as well, so I recommend getting yourself a copy of this delightfully healthy cookbook.
For about a week I was calling these cookies Samoras instead of Samoas. I'm not really sure what got into me as I used to call them by the correct name. If you like cookies with toasted coconut, vegan caramel sauce and dark chocolate, then these are right up your alley, regardless of the name.
Paleo Samoas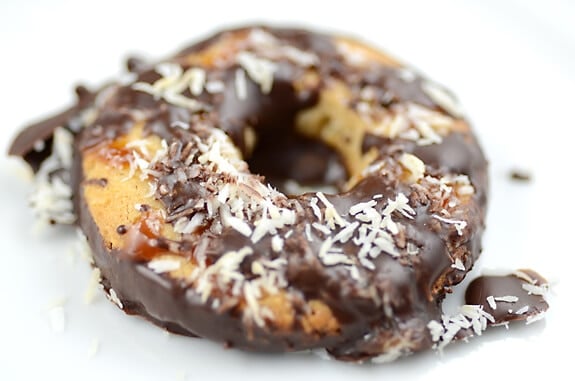 Print
Email
Pin Recipe
Cookies
In a

food processor

combine dry ingredients

Pulse in wet ingredients until dough forms

Refrigerate dough for 30 minutes

Roll dough between 2 sheets of

parchment paper

to ¼-inch thick

Use a

2 inch cookie cutter

to cut out rounds

Use a knife to cut holes in center of rounds if desired

Bake at 350°F for 6-8 minutes

Cool cookies completely on

baking sheet
Topping
Melt chocolate over very low heat

Dip base of each cookie into chocolate

Place on

parchment paper

to set

To make caramel, place coconut sugar, coconut nectar and coconut milk in a

saucepan

Bring mixture to a boil, then decrease heat and simmer for 10 minutes, stirring frequently

Remove mixture from heat and stir in toasted coconut

Use a small spoon to drizzle caramel-coconut mixture onto cookies

Drizzle additional chocolate over cookies and sprinkle with extra coconut if desired

Place cookies in refrigerator to set, then serve
Prep Time 10 mins
Fridge Time 30 minutes
Cook Time 16 mins
Total Time 56 mins
While the ingredients for these homemade Paleo Girl Scout cookies are based on a recipe from Tammy Credicott's Paleo Indulgences, much of the method is based on that from the Samoa recipe by David Leite at Leite's Culinaria. Leite has one of the best cooking sites around. His photography is beautiful and the instructions for his recipes are full of detail, yet at the same time quite simple.
Finally, a bit of Girl Scout cookie trivia –did you know that in 2002 Bruce Willis purchased 12,000 boxes of Girl Scout cookies and had them sent to troops in Afghanistan?
What is your favorite Girl Scout Cookie recipe? If you could see another gluten-free Girl Scout cookie recipe over here which one would it be?