Coaching my son's little league team is a hoot. Technically, I am assistant coach. Make that "more than" technically; I am definitely assistant coach. Pete (my friend Blair's husband) is head coach and he is fantastic. All fun, yet full of discipline and focus. It is so great to see how he hustles twelve little 9 year olds around the field, keeping them busy with baseball drills and motivating them to concentrate on the task at hand.
Of course, being a Jewish mother, I am the coach that is very concerned with food and keeping blood sugar stable (you could say I'm head food coach).
Today before practice, I was quite busy, running here, there and everywhere; so on my way out the door to a day full of errands and meetings, I made half a gallon of trail mix for the team. They loved it. If only Coach Pete had given them more snack breaks!
Here is my recipe for what I simply call "Favorite Trail Mix."
Trail Mix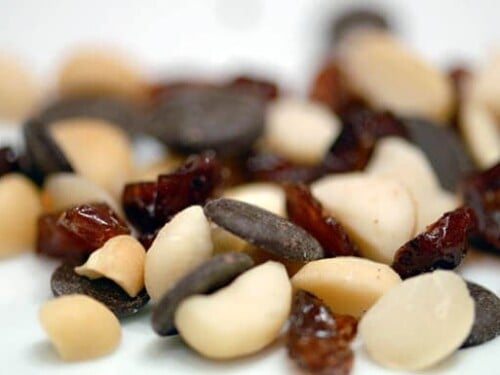 Print
Email
Pin Recipe
This healthy gluten free trail mix snack with nuts, fruit and dark chocolate is convenient, plenty filling and nutritious to boot. The dried cranberries are rich in simple carbohydrates –much needed energy when exercising, the macadamia nuts have protein, which slows down the aforementioned carbs and makes this mix stick to your gut and the dark chocolate is packed with antioxidants.
Best of all, this trail mix makes for a delicious snack food that pleases the gluten-free as well as those with no food restrictions whatsoever. I can check food off my little league list, now all I have to do is make sure not to embarrass my 9 year old on the field or in the dugout!