My children were very upset with me last night when they saw I was making gummy bears. Why? I told them they could not eat any as I needed them for a morning photo shoot…for you all. The boys will be happy this afternoon when they get home from school and find this healthy candy ready to eat. These gluten-free gummy bears are the perfect thing to pack as a treat in school lunches, make a wonderful after-school snack, and are a great homemade Halloween candy for your little ghosts and goblins.
My boys (both teenagers now) are literally obsessed with these fruit juice-sweetened gummy bears and worked with me as I made them numerous times to perfect both the texture and flavor.
Gummy Bears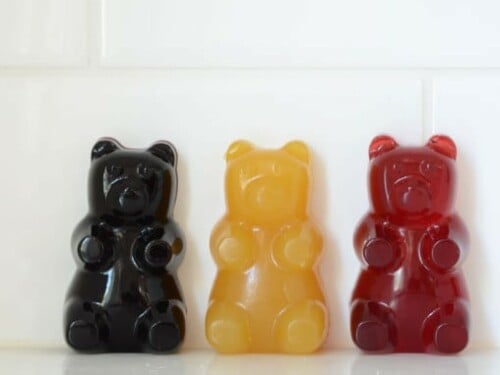 Print
Email
Pin Recipe
Instructions
In a medium saucepan bring juice to a boil

Allow to cool for 3 minutes, then stir in lemon juice and stevia

Very gradually,

Whisk

in gelatin

If you do not whisk gradually and thoroughly your bears will be lumpy

Allow mixture to cool almost to room temperature, then pour into

gummy bear molds

Refrigerate for 2 hours

Store in an airtight container in the refrigerator for 3-4 days
Cool Time and Fridge Time
2

hours
3

minutes
Total Time
2

hours
23

minutes
Each healthy gummy bear candy has close to 2 grams of protein –not bad for a snack food. My older son likes to eat these with breakfast.
I haven't played with gelatin for quite some time, however, Kelly kept telling me about her gummy recipe using pure gelatin (as in unflavored, without all of the sugar and dyes found in the more commercial product) and now I'm totally on the gelatin bandwagon.
Gelatin is fantastic for gut health and high in protein, which makes it an optimal food for my family. I make sure to purchase the grass fed gelatin and have found it to be very high quality. Here's to the oxymoron of healthy candy, and gummy, or gummi, bears!