I've been on a quest this week for gluten-free, dairy-free healthy Twinkies and after several attempts (make that 7) I seem to have come up with a good approximation of this infamous Hostess treat.
Whenever the subject of Twinkies comes up in our house a certain Twinkie vandalism story is told (of which I was not a part!). My husband likes to talk about the time (in his college days) when he and a buddy were coming home from a night out. His friend had the munchies and procured a Twinkie. Apparently his friend was feeling artistic/vandalistic/Keith Harringesque, and using his Twinkie wrote the initials "JS + NA" inside a heart on the outside wall of a building on campus.
Fast forward a decade and a half to their 15th college reunion. The initials written in Twinkie were still there 15 years later.
Gluten-Free Twinkies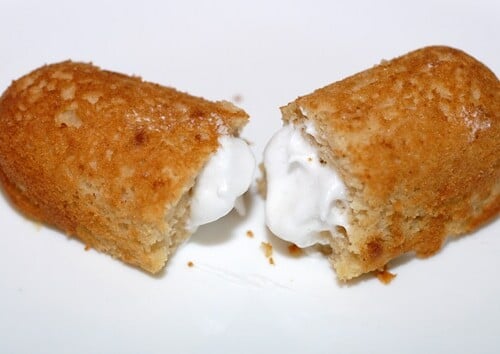 Print
Email
Pin Recipe
Instructions
In a

large bowl

, whip egg whites to stiff peaks, then set aside

In a

medium bowl

, whip egg yolks until pale yellow, then whip in grapeseed oil and agave

Whip vanilla and lemon juice into egg yolk mixture

In a

medium bowl

combine coconut flour, baking soda and salt

Blend flour mixture into egg yolk mixture, then whip ingredients together until smooth

Gently fold egg whites into yolk-flour mixture

Spoon batter into

Twinkie molds

until they are half full (you will get 8 Twinkies)

Bake at 350°F for 11-12 minutes

Remove from oven and allow Twinkies to cool
Dairy-Free Twinkie Filling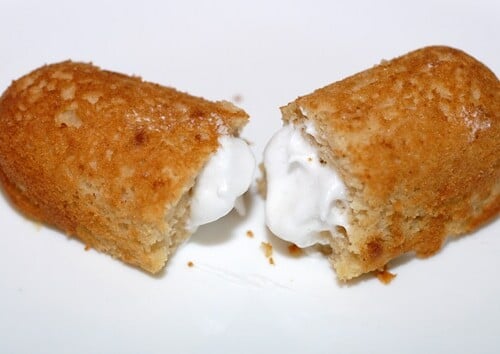 Print
Email
Pin Recipe
Instructions
Whip egg whites to stiff peaks

Blend in agave and re-whip until stiff peaks form again

Place filling in Twinkie filling injector

Place cooled Twinkie flat side up and inject filling into Twinkie in 3 spots on its flat (bottom) side

Serve
Yes, this filling recipe includes raw egg whites and yes, my family and I eat raw egg on a fairly regular basis. If that's not your thing, then you could fill the Twinkies with agave sweetened whip cream, which I think would taste delicious.
Be sure to fill your Twinkies just before eating. Why? The sponginess of the Twinkie cakes quickly absorbs the filling. When I left mine over night, all of the filling was absorbed into the cake.
Disclaimer: it is challenging to get a ton of filling into the Twinkie. If you are striving to obtain the amount of filling in the photo above, please don't. That photo is food-styled (by me) with extra Twinkie cream. In any event, happy Twinkie time!
…And now for the winner of last weeks Friday Freebie (an Elana's Pantry tote bag made of 100% recycled cotton)…merav! Congratulations!