Flourless Chocolate Cupcakes are a quick and easy paleo dessert made without almond flour. The base of this healthy cupcake recipe is whole almonds, and you only need a handful of other ingredients to throw these together. In addition to almonds, this recipe calls for chocolate, eggs, honey, oil, vanilla, and salt
We love making Flourless Chocolate Cupcakes for birthdays and other celebrations. They will wow your guests whether they're gluten-free or able to eat anything under the sun. My husband, who has no food restrictions at all loves this Flourless Chocolate Cupcake recipe. These cupcakes are rich and dark and totally addictive when smothered in my dairy-free Paleo Chocolate Frosting.
My husband is really benefiting from all of my cupcake creations. He especially loves the Vegan Chocolate Cupcakes in my second book, Gluten-Free Cupcakes. I love them too because they're not only incredibly chocolatey and delicious, they're super easy to make. I love the challenge of making the easiest paleo recipes in the world, and so appreciate all of the feedback I've been getting from fans that my recipes can be whipped up without any fuss!
I think you'll love these Flourless Chocolate Cupcakes. They're perfect when you're in a pinch and have run out of almond flour since they're made with whole almonds!
Flourless Chocolate Cupcakes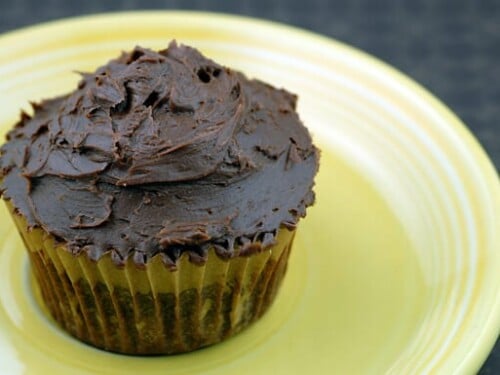 Print
Email
Pin Recipe
Instructions
Grind until the consistency of coarse sand

Pulse in eggs, grapeseed oil, and agave

Pulse in vanilla and salt

Bake at 350°F for 12-15 minutes

Serve
For those of you that are on a nut-free diet, here are some of my nut-free paleo recipes: