Food is politics. More than ever. So, imagine my surprise when I found this comment the other day, right here on my little ol' blog saying:
"I love your recipe blog, but really don't agree with your political views or comments. Try to stay more focused on the food instead of politics. You may keep more friends that way."
I'd never thought of being less than genuine and hiding my views as way to gain friends. Call me naive, that's one strategy I haven't tried. In terms of what I write on this site, I share my personal (which are of course political) philosophies and also enjoy hearing other people's views, whether they agree with me or not.
So everyone, I want to thank you for your comments and all of the diverse perspectives. I appreciate hearing your views, even if we don't always exactly see eye to eye.
In terms of my opinions, I hope you all enjoy what I write and totally understand if you don't. Of course, if you are a big fan of Sara Palin then this site might not be the most comfortable place for you to hang out, given that I am pretty much a bleeding heart liberal. And then some. That's not something I ever have or ever will try to hide.
Here's yet another delicious gluten-free kosher for Passover recipe; it is based on a recipe I found on epicurean.com. My husband was very enthusiastic about this dessert, eating the crumbs off of the serving plate. Just a word of caution, this moist tart can be a bit crumbly this is normal and does not mean you've done anything wrong.
Chocolate Walnut Torte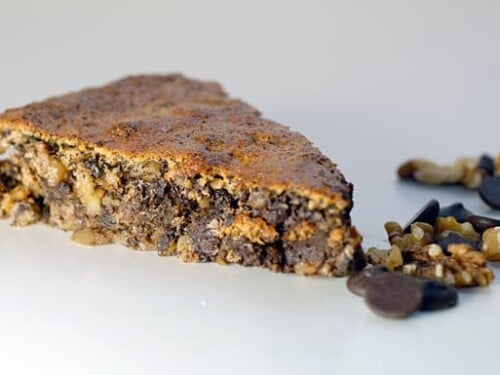 Print
Email
Pin Recipe
Instructions
In a

food processor

, pulse the chocolate until it becomes a coarse mixture, the consistency of gravel

Pulse in the walnuts, briefly, until they are coarsely chopped -bigger chunks than the chocolate

In a

large bowl

, beat the egg yolks until pale in color, then gradually beat in the agave

In a separate

large bowl

, beat the egg whites to stiff peaks, then beat in the salt

Fold the chocolate-walnut mixture into the egg yolk mixture

Then fold the egg whites into the egg yolk mixture

Bake at 350°F for 20 minutes, then turn the oven off and leave in for 10 more minutes, until firm to the touch and golden around the edges

Cool in the pan, then serve
This gluten-free flourless torte is another less expensive way to make higher-protein, lower glycemic desserts, without the expense of almond flour. Not that I don't love almond flour, it's still my favorite ingredient!
I'm not sure if this torte would work with yacon, though it might be a worthy experiment. It might also be worthwhile to experiment with other nuts, if walnuts aren't your thing.