For those of you that don't like to spice things up, read no further. For the rest of you, I have this delicious vegan chocolate truffle, that you just might find yourself addicted to, especially in the cold weather.
These chocolate chili truffles are perfect for a slightly spicy Valentine's Day.
I hope you are all enjoying my latest string of recipes, including this heart healthy treat. Recently, my site climbed into the top 20 in the Wellsphere.com health blogger award competition. Wellsphere is a great clearinghouse for healthy lifestyle blogs. If you feel moved to do so, please stop over there and give your vote.
Chocolate Chili Truffles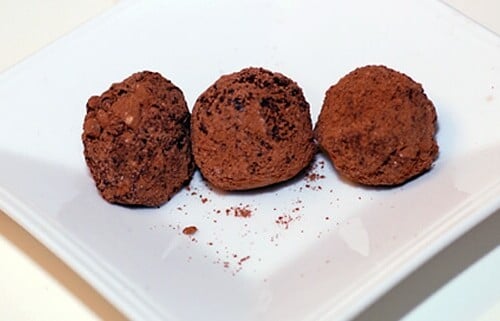 Print
Email
Pin Recipe
Instructions
In a

saucepan

, melt chocolate over very low heat

Stir in agave, chili, almond extract, and coconut milk

Refrigerate for 20-30 minutes or until mixture is about the consistency of a thick frosting

Combine the almonds and cacao powder in a shallow bowl

Roll the truffle balls in the almond-cacao mixture

Serve
Equipment
I based these spicy little truffles on a recipe from The Spice House, though theirs had several ingredients that I shy away from. You can try this with any of your favorite fun flavor combinations.
Store on a plate on the counter for up to 5 days.