UPDATE: check out my Mini Blueberry Muffins How-to video!
Blueberry muffins are such a classic little treat. Great for breakfast, an afternoon snack with a cup of tea or even dessert. These Gluten Free Blueberry Muffins, made with coconut flour, are light, fluffy and satisfying.
This is the first coconut flour recipe I have posted. My favorite taste tester (that would be the beloved husband) and I had a conversation last night about my coconut flour recipes during which he gave me his blessing to post this one for blueberry muffins. The boys also gave their tacit approval by gobbling down a full batch.
Between those two stamps of approval (and several others that I won't take the time to detail here), I would say these gluten-free blueberry muffins are ready for "prime time!" Enjoy.
Blueberry Muffins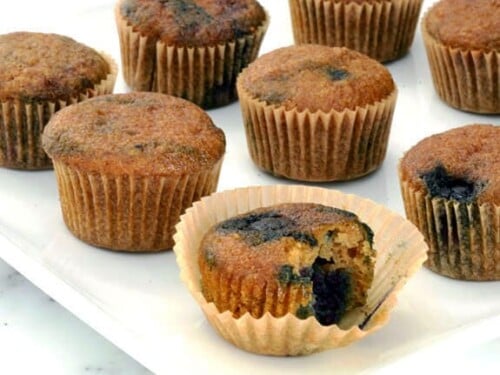 Print
Email
Pin Recipe
Instructions
In a

small bowl

, combine coconut flour, salt and baking soda

Mix dry ingredients into wet, blending with a hand mixer

Gently fold in blueberries

Bake at 350°F for 20-25 minutes

Cool and serve
Please note: longtime readers, this recipe uses coconut flour, not almond flour. These two flours have very different properties; substituting one for the other will not work. I have had a lot of fun cooking with coconut flour and am looking forward to sharing more of these light and fluffy recipes with you!